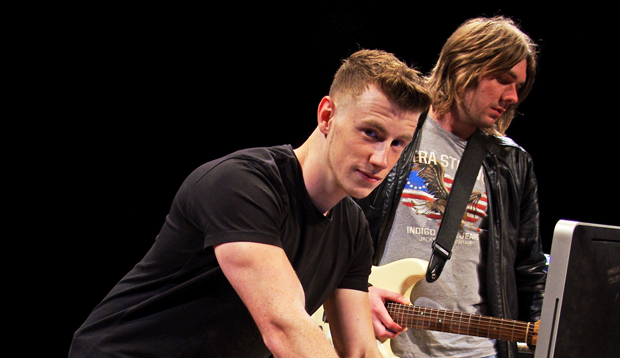 Level three music students performed their remix of concept album War of the Worlds live at Warrington Collegiate.
Antony Vickers, aged 26, and Nick Bromley, 22, reworked the original songs recorded by Jeff Wayne in 1978 with house, dub step and drum and bass styles.
They performed their version of the album, which retained actor Richard Burton's narration of the story written by HG Wells, in the college's Barton Theatre.
The duo played guitar, drums and synthesisers live to the remixed music.
Nick said: "Our tutor Liam Maloney was the inspiration for this piece.
"He has supported, guided and encouraged us to make it our own. It was an enormous challenge, the work is a classic, but we are confident that this performance won't be the last."
Cap: From left: Nick Bromley plays keyboard and Antony Vickers plays guitar to their War of the Worlds remix.