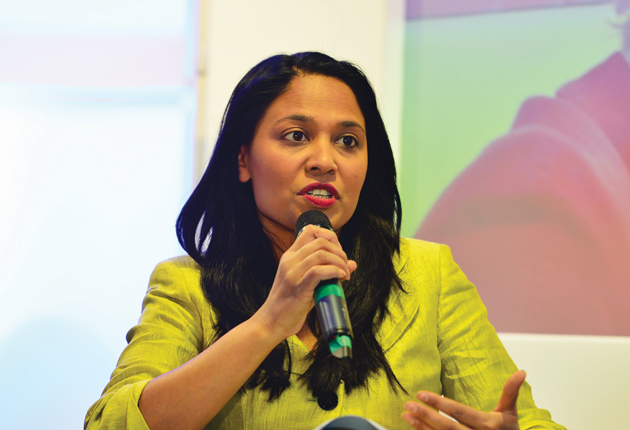 Labour has accused the Conservatives of playing "catch-up" on tech baccs after just five colleges were revealed to be planning to run courses that would count towards the new performance measure.
The tech bacc level three performance measure for 16 to 19-year-olds will be made up of a tech-level vocational qualification, a maths qualification and an in-depth industry-research project and will count towards school and college rankings from 2016/17.
However, just five colleges and two schools signed up to offer qualifications which will be included in the scope of the TechBacc from September, prompting Shadow Junior Education Minister Rushanara Ali (pictured) to hit out over a "lack of take-up".
She also said the Conservatives were playing "catch-up" because when Skills Minister Matthew Hancock first announced the government's tech bacc idea in 2012, then-Shadow Education Minister Stephen Twigg accused him of "stealing" a Labour's idea. Ms Ali told FE Week: "The government is still playing catch-up with Labour's proposals for a gold-standard Technical Baccalaureate — but without success.
She added: "The lack of take-up on the government's tech bacc is more evidence that the Conservatives have failed deliver for the 'forgotten 50 per cent' — those young people who do not wish to pursue the traditional academic route to university. Their talents are being wasted.
"Mr Gove has left young people without proper access to high-quality vocational pathways."
The colleges that have signed up as tech bacc "Trailblazers" were Barnet and Southgate College, Blackpool Sixth Form College, Brockenhurst College, South Cheshire College and Warwickshire College.
Mr Hancock said: "These seven schools and colleges will lead the way in teaching a combination of demanding technical skills, maths and independent research. Young people who achieve the tech bacc will have a set of qualifications that stands them in good stead for the world of work. It will be the gold-standard measure for young people who want a technically skilled job or apprenticeship.
"In combination with our other reforms to vocational and academic education, the tech bacc will provide high-quality technical training, giving Britain the skilled and responsive workforce it needs to compete, and give all young people the opportunity to reach their potential."