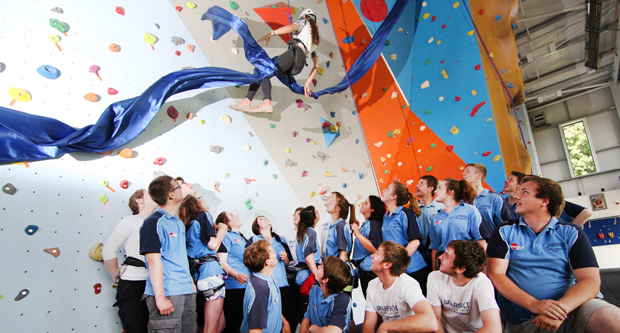 Record-breaking mountaineer Bonita Norris scaled a 8.5-meter high climbing wall to cut a ribbon that officially opened Sparsholt College's new sports centre.
Ms Norris, aged 26, was guest of honour at the opening ceremony for the £2.7m sports centre, which contains a climbing wall, sports hall, gym and sprung-floor dance studio.
Ms Norris rose to fame when she became the youngest British woman to reach the summit of Mount Everest aged 22 in May 2010.
After cutting the ribbon, she said: "This is the best climbing wall I have ever seen in an educational establishment."
In an inspirational speech to students, she added: "Keep an open mind, say yes to things that scare you and don't be afraid to fail. Hard work is the secret to everything — pure talent is never enough."
Principal Tim Jackson said he was proud of the sports centre and in particular the "truly spectacular climbing facility that is the envy of most FE colleges."
Cap: Studens watch record-breaking mountaineer Bonita Norris scale the climbing wall