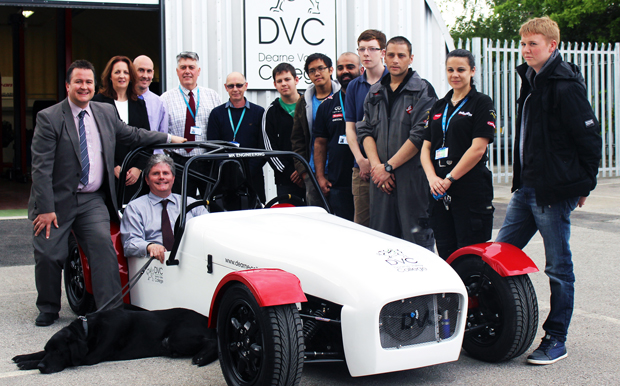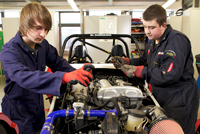 Staff and students from Yorkshire-based Dearne Valley College and Specialist College Doncaster joined forces to build and paint a racing car that can be driven by people with a variety of disabilities. The vehicle was donated to the Speed of Sight charity run by record-breaking blind racing driver Mike Newman, writes Paul Offord.
The thrill of driving at high-speed around a track need not be something only able-bodied people with 20-20 vision can enjoy.
A kit car that FE staff and learners helped build and paint has been specially-designed so it can be driven by people with a wide range of physical and learning disabilities.
It belongs to the Speed of Sight charity, which allows disabled people who are unable to use ordinary cars to experience the adrenalin rush of driving more than 100mph.
The car was designed by Doncaster-based firm MK Engineering, in consultation with record breaking blind racing driver and charity founder Mike Newman, aged 52.
The firm's technicians fitted the engine and dual-steering and pedal controls to a basic chasis, then handed it over to South Yorkshire-based Dearne Valley College last November.
Mr Newman, who launched Speed of Sight 18 months ago, broke the land-speed record for a blind person last September on a test track in Brunting Thorpe, Leicestershire, by reaching 186mph in a Porsche GT2.
He said: "I find driving fast exhilarating and had this idea of helping other people who have been told they can't drive to experience the same thing.
"This is the charity's second racing car and it has already been used by around 15 people with a variety of disabilities — including a 10-year-old lad who couldn't see."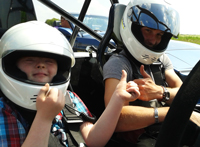 A group of 14 level one to three motor vehicle repair learners designed, cut-out and fitted the car's aluminium dashboard, mudguards, and metal runners for the fibreglass seats, under the guidance of tutors and technicians.
They also modified and fitted the brakes, wheels, oil coolers, electrical wiring, seats and bodywork that came with the kit car pack provided by MK Engineering.
Tony Austin, automative body repair tutor, said: "This project took a lot of hard work, skill and dedication.
"For example, the seats on those kit cars are normally bolted to the chassis, but we made special runners so they could be moved forward to suit people for people with shorter arms and legs.
"It wasn't just students who did the work, several members of staff including mechanical technician Brian Butcher worked extremely hard on the project with me."
One of the students Daniel Weaver, aged 17, who helped install the engine's wiring, said: "I'm a big Formula One fan, so it was exciting to work on a racing car. It was nice to think about all the people who will benefit from it too."
The car's fibreglass bodywork was also painted white and red and its wheels black at Communications Specialist College Doncaster, by level one and two motor vehicle maintenance students with hearing and other communication difficulties.
Andy Boothroyd, programme leader for motor vehicle technology, said: "We were up against the clock as we only had about two weeks to do all the work, but the students did really well."
The charity paid MK Engineering £6,000 for the basic kit car and modifications carried out by its mechanics. Mr Austin estimated the two colleges saved the charity a further £6,000 in parts and labour costs through their work.
The Dearne Valley students who worked on the car were invited to test drive it at the Yorkshire Aerodrome, near Selby, in May.
Mr Austin is also now a regular support mechanic when it is driven by people with disabilities. He said: "The car can be driven by people with almost
anyone, whether they are blind, have learning difficulties, or mobility problems, so
long as they are with a qualified co-driver.
"It can be very moving. I've seen people get out of the car and start crying, not out of sadness but with happiness because they've fulfilled their dream."
Visit speedofsight.co.uk to find out more about the charity.
Cap: Martin Harrison, principal of Dearne Valley College (far left) , blind racing driver Mike Newman (seated in the car), and Andy Boothroyd, programme leader for automotive vehicle technology at Doncaster Communication Specialist College (back row, fourth from left), with representatives from the Speed of Sight charity and staff and students from Dearne Valley College and Specialist College Doncaster. Inset right: Level one automative body repair students Alex Kent and Josh Ward, both aged 17, work on the car. Inset left: Kane Haggarty, aged 10, who has Downs Sydrome, in the car with racing driving instructor Ashley Miller.