The mention of virtual reality learning is one that will trigger visions of clunky visors and black Lycra bodysuits for many, but, as FE Week reporter Paul Offord found out, the vision is not quite the reality, thankfully
Students at the College of North West London are making use of every learning aid at their disposal, even virtual reality (VR).
Around 1,100 learners on construction courses (levels one to four) in plumbing, gas utilisation, trowel trades of brick and plaster, carpentry and joinery, and painting and decorating use it.
A further 1,400 on engineering courses (again levels one to four) in electrical installation, air conditioning and refrigeration, welding,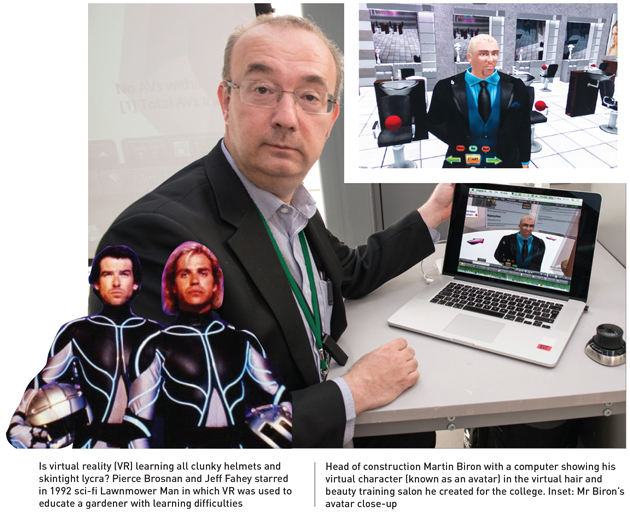 automotive engineering, body and paint, mechanical engineering use VR.
Putting the college ahead of the field, virtually speaking, is its head of construction, Martin Biron.
"The College of North West London has embraced opportunities to support vocational education through the development of VR and AR [augmented reality]," he told FE Week.
"I think it is fair to say we are pioneers in advocating and developing the use of digital technologies within FE."
He has been learning how to create new VR teaching programmes through a part-time masters degree at the University of the West of England and has developed a virtual hair and beauty training salon called le Salon De Coiffure at the college that is expected to be in operation from September.
"It can't do things like simulate cutting hair," he said.
"But students will be able to develop soft skills, like conversing with clients.
"I also developed a central heating component identification pod — this allows students to work in pairs within the virtual world and learn about the different components found within a domestic heating system."
Students can download the VR software on home computers and smart phones.
They are also encouraged to use AR software that recognises tools filmed on smart phones (pictured below) and plays videos explaining how they work.
Another 8,500 students across the college have access to the college's VR software that is not actively used in lessons. They use it to support studies, for example when learning about health and safety issues for a variety of skills training courses.
Mr Biron said that he saw VR teaching software as complementing rather than replacing workshop-based teaching.
"Gas fitting students, for example, can be working on a valve in class which controls the supply of gas to different appliances," he said.
"We can show them on a big screen while they're doing it which way the gas is flowing inside the valve."
It might sound like an expensive piece of kit, and Mr Biron said it costs around £10,000 a year to maintain and update the VR and AR software, but he predicted providers would increasingly look to the technology as budgets are cut.
"It would cost hundreds of thousands of pounds for the college to build a new training salon, but one man did it for next to nothing in the virtual world and we will hopefully introduce that into the teaching programme from September," he said.
He added: "We haven't got the software yet to fully replicate practical physical activities like welding or cutting hair, but I'm confident there will be completely interactive virtual workshops within 20 years that will cut out all our current health and safety worries."