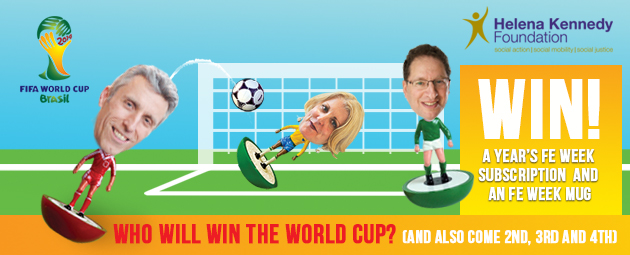 Brazilian magic will see the host nation lift the World Cup in just over a month's time — that's the overwhelming view of the FE and skills sector.
Yes, Brazil, whose first game tomorrow night against Croatia will get the tournament under way, are the sector favourites to win the 2014 World Cup in Rio de Janeiro on Sunday, July 13.
Lynne Sedgmore (pictured above, centre), 157 Group executive director, and David Hughes (pictured above, left), chief executive of the National Institute of Adult Continuing Education, were among those to back Brazil as FE Week launched its World Cup-inspired fundraiser for the Helena Kennedy Foundation.

"Our predictions have been developed following advanced algorithm-based scientific analysis and helped by the keen football insight of 157 'associates' (ie family members of the team)," said Mrs Sedgmore.
"The host country must have a definite advantage to lifting the cup this year and Brazil are our favourites to beat Spain in a closely-contested final at the Estadio de Maracana."
A similarly impressive prediction technique that arrived at Brazil as winners was adopted by Mr Hughes, who looked to the Organisation for Economic Co-operation and Development's (OECD) for help.
"There's very scientific reasoning behind my prediction," he said.
"Firstly, I wanted to look at the most important data so I found the OECD's Programme for the International Assessment of Adult Competencies (PIAAC) study on adult numeracy from 2013 and used that to forecast that the most numerate nations would do best.
"The main problem with this approach is that not all of the 32 nations in the World Cup participated in PIAAC, so I chose the best two European from the study and balanced that, to be even-handed with the clearly best two Latin-American countries. Simple. Let's hope numeracy is related to spatial awareness."
But while the host nation were also the favourites of Stewart Segal (pictured above, right), Association of Employment and Learning Providers chief executive, he couldn't help hold out some hope for Roy's Boys.
He said: "It's hard to see anyone beating Brazil on home turf, but it may be close and there is still hope for an outsider that hasn't won the tournament for 48 years [England]."
However, an AELP spokesperson later added: "Belgium could be considered as a decent each-way bet."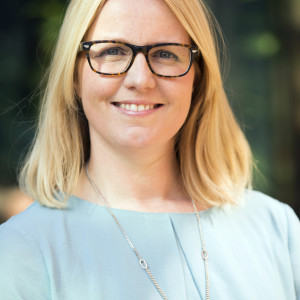 The information may well have been leaked to the Education and Training Foundation, where leadership, management and governance director Olivia Dorricott (right) also had an eye on Belgium.
"We think Brazil will win, but the team to watch will be Belgium — lots of class and youth on their side," she said.
"The South American advantage will play to the advantage of Brazil and Argentina, and just like with skills never underestimate the talent of Germany."
Baroness Helena Kennedy QC said: "I'm going for the home nation to win. With Brazilian bravado behind them, Brazil can't fail."
And Shadow Skills Minister Liam Byrne was also going for the Brazilians — but was positive about England's chances.
He said: "This World Cup is going to be a cracker. Topping the scoring charts will be Birmingham born-and-bred Daniel Sturridge, propelling England into an unexpected third place finish (a nail biting penalty shootout will see them through against Germany, in the most watched third-placed playoff of all time).
"Ultimately, the might of the Brazilians will see them through to the World Cup final where they'll beat their South American rivals to clinch global glory and spark a carnival in Rio."
However, there were some predictions of another nation lifting the World Cup.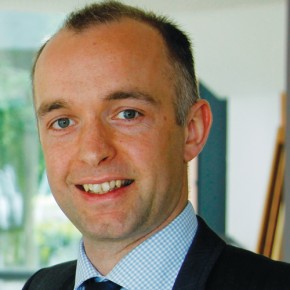 James Kewin (left), Sixth Form Colleges Association deputy chief executive, said: "I am tipping Argentina to win the World Cup this year, with Brazil in second place, Spain in third and Portugal in fourth.
"Like sixth form colleges, these are high performing teams, full of talented individuals that are used to playing in an extremely difficult climate."
Argentina, and specifically star striker Lionel Messi, also caught the imagination of Association of Colleges chief executive Martin Doel.
He said: "My rationale was that any team with Messi in it must be a strong contender and Argentina are always a strong street-wise tournament team.
"Spain are not as strong as they were four years ago with an ageing team, but still the best pure footballing team in the world. Brazil will be strong at home but I'm not sure that they have the rounded team to compete with Argentina or Spain.
"Belgium are the equivalent of England in the late 1990s/early 2000s, in that they have a 'golden generation' of talented players like Vincent Kompany and Eden Hazard and perhaps they will make better use of this generation than England did."
Dr Ann Limb, HKF founder and chair, said: "Spain are the best team in the world at the moment and my money's on them."
But keeping the England flag flying was Skills Minister Matthew Hancock who thought Rooney and Co would emerge victorious.
"I'd love to see England in the final but it will be a tough journey. Brazil, with their flair and home advantage are the team to beat," he said.
Lynne Segmore — Brazil, Spain (second), Argentina (third), Germany (fourth)
David Hughes — Brazil, Belgium, Uruguay, Holland
Stewart Segal — Brazil, Argentina, Spain, Germany
Olivia Dorricott — Brazil, Belgium, Argentina, Germany
Baroness Helena Kennedy QC — Brazil, Spain, Italy, Germany
Liam Byrne — Brazil, Argentina, England, Germany
James Kewin — Argentina, Brazil, Spain, Portugal
Martin Doel — Argentina, Spain, Brazil, Belgium
Ann Limb — Spain, Germany, Brazil, Italy
Matthew Hancock — England, Brazil, France, Portugal