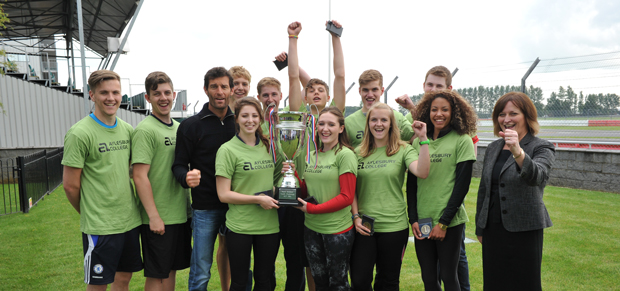 Learners from Aylesbury College and Amersham and Wycombe College raced through physical endurance and mental agility tests in front of former Formula One driver Mark Webber.
Teams of 12 students from each college completed events including a giant Krypton Factor-style puzzle against the clock, riding as many miles as possible in two hours on exercise bikes, and racing around Silverstone race track, in Northamptonshire, on handpowered cycles.
The winning team from Aylesbury College was presented with medals by Australian Mr Webber, who lives near both colleges in Buckinghamshire and helped organise the event.
Karen Mitchell, principal of Aylesbury College, said: "Some of the challenges were pretty tough but it was a great day for everyone involved."
Andrew Kirk, events manager for Amersham and Wycombe College, said: "It was a very exciting day for all the students and they gave everything in the physical and mental challenges."
The students raised £3,000 through sponsorship and a charity auction for the Aylesbury College Trust, which helps deserving students who need financial support continue their studies.
Mr Webber began racing in Formula One in 2002 and retired last year. His best overall finish was third for the 2010 season.
Picture caption: Former Formula One driver Mark Webber (third from left) and Aylesbury College principal Karen Mitchell (far right) with students from her college's winning team