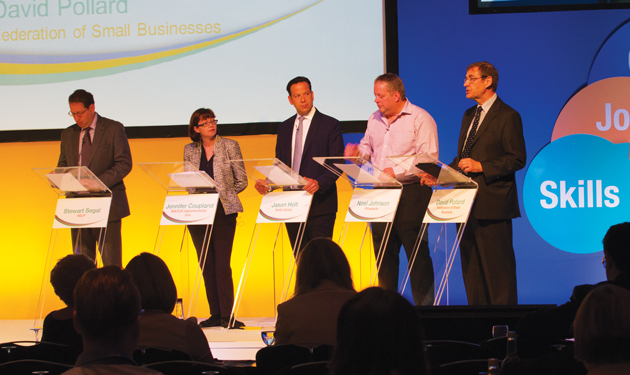 A high-ranking government official has reinforced Skills Minister Matthew Hancock's assertion that only cold, hard cash would count as employers' mandatory contribution to apprentice training costs.
Jennifer Coupland, deputy director of the Joint Apprenticeships Unit at the Department for Business, Innovation and Skills (BIS) and the Department for Education (DfE), told delegates at the Association of Employment and Learning Providers (AELP) annual conference that "income" and "apprentice salaries" would not go towards employers' one-third share of the costs.
She said: "In terms of the employer co-investment, or employer co-payment, whatever you want to call it, the thing we are looking for is cash contributions.
"We won't be counting income, we won't be counting apprenticeship salaries."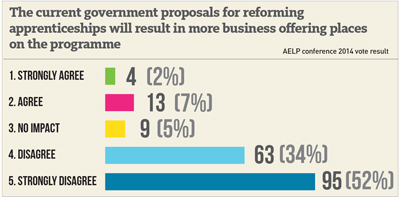 Her comments came on day two of the conference, in Hammersmith's Novotel on Tuesday, June 3, and offered backing for Mr Hancock who, having spoken at the conference just 24 hours earlier, appeared to be losing the support of the Confederation of British Industry (CBI) on the funding reforms.
Its skills director, Neil Carberry, told delegates that businesses wanted "co-investment not co-payment", and used Twitter to call for contributions other than cash to count towards the employer's mandatory share of the cost.
He wrote on Twitter: "We need the totality of an employer's contribution taken into account, not just the cash — especially for the smallest."
But further disappointment came for the government after Ms Coupland's speech when delegates were given the chance to vote on various issues of apprenticeship reform, which could see employers handed the task of sourcing provision.
Out of 184 people, just 17 (9 per cent) agreed or strongly agreed that apprenticeship reforms would lead to businesses offering more places.
In total, 95 people (52 per cent) strongly disagreed, 63 (34 per cent) disagreed, while nine (5 per cent) said the reforms would have no impact at all.
Jason Holt, chief executive of Holts Group and author of Making Apprenticeships More Accessible to SMEs, said: "The [apprenticeships reform] challenge and opportunity is to make this an opportunity to think about the fact we are only engaging with about 100,000 businesses of 4m in this country, so how can we increase the reach to those 4m?
"We need to try to see this as an opportunity to build rather than have this concern that it's actually going to decrease."
But other members of the panel were more sceptical about the reforms, including Prospect Training director Noel Johnson.
He said: "What they [employers] are not happy about is taking on that role of managing the apprenticeship programmes. I am speaking from the employers I have met, and 100 per cent of those wanted to look at how we as providers could continue delivering on their behalf and managing that bureaucracy.
"There has to be a clear choice, take it on or manage it through your provider."
David Pollard, chair of the Federation of Small Businesses' education, skills and business support policy group, said: "Any increase of the administrative burden on small businesses, any
problems with the implementation of the reforms and any increase in the overall cost of apprenticeships for small businesses are all things that we believe will risk reducing the volume of apprenticeships in the short term."
Skills system 'missing' in Queen's Speech
A new skills system to tackle a "major labour market imbalance" should have been in the Queen's Speech, the National Institute for Adult Continuing Education (Niace) has said.
In her annual speech, which sets out what the government's priorities will be for the next term of parliament, apprenticeships featured just a week after the government revealed employers would be paying out a third of the training costs in future.
On Wednesday (June 4), The Queen said: "My government will continue to deliver the best schools and skills for young people. My government will increase the total number of apprenticeship places to 2m by the end of the Parliament."
Tom Stannard, Niace deputy chief executive, said: "It is good to see further investment in apprenticeships, aspirations for delivering the best skills for young people and proposals to better prepare them for the workplace.
"But the strength of the economic recovery is going to rely on more than young people. There is a major labour-market imbalance ahead of us over the next ten years. It's anticipated that there will be almost twice as many vacancies as there will be new labour force entrants to fill them.
"The government must take action to implement a new skills system that meets the needs of all people of all ages."
And Chris Jones, chief executive of the City & Guilds Group, said: "If we really want apprenticeships to be seen as a credible and valuable route to a career, we desperately need to see stability in the system. Too much to-ing and fro-ing on the policy around apprenticeships only serves to confuse people."
According to figures from the government's FE Data Library, the current total of apprenticeship starts from the beginning of the academic year 2010/11, after the current government was elected, stands at just under 1.6m.
Main pic: From left: AELP chief executive Stewart Segal, Jennifer Coupland, Jason Holt, Noel Johnson and David Pollard