An allegorical tale that uses birds to bring to life the story of Emmeline Pankhurst has given Essex college learners a whole new outlook on the struggle for female equality, writes Paul Offord.
Playing a character based on feminist icon Emmeline Pankhurst made musical theatre student Lolo Adaja appreciate how times have changed for women.
The 18-year-old had never even heard of the Suffragettes, who fought for women's right to vote in the UK in the early 20th Century, before she read the script for Angry Birds — a musical commissioned by Havering College of Further and Higher Education.
She said: "If I put my hand on my heart, I hadn't heard of the Suffragettes before this. I was aware of the struggle against slavery, but didn't know women had to fight so much for their rights.
"I now know that if Emmeline hadn't campaigned so hard with the Suffragettes, the other girls on the course and I wouldn't have had a chance to go to college. We would have just been married off young and raised children."
The play begins in a mythical birdland and features young birds at a failing school, who are inspired by the feminist struggle.
The following plot is loosely based on the struggles of Mrs Pankhurst, leader of the British Suffragettes, and her family and friends. However, they are all birds and the lead character is called Emmeline Peahen.
It was penned by musical theatre composer Dougal Irvine, who rose to fame through musicals Departure Lounge and Britain's Got Bhangra, as a final project for a class of nine level three learners.
Simon Gray, lecturer in musical theatre, said: "They were a special class so we wanted to do something special for their final project.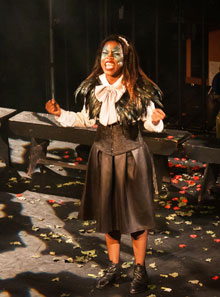 "Dougal sat the class down and asked them what issues were important to them. They discussed the portrayal of women in the media and it became clear that something related to feminism would work well.
"There are nine girls in the class and just one boy, so it worked perfectly. He decided if the Suffragettes had been alive today they would be punk rebels, like the Russian feminist group Pussy Riot.
"Then he changed it again by making the characters into rebellious birds, so it was kind of like George Orwell's story Animal Farm too."
As well as acting all the parts, the students also directed and choreographed the show under guidance from Mr Gray and Mr Irvine.
The musical featured 25 original songs and lasted for two hours. It was performed five times late last month in the space of a week to packed audiences at the college.
"It has been such a great experience for all of us. At the beginning we were sceptical about someone writing a whole musical for us, but as soon as we saw the script and took on board the subject matter we were so excited," said Lola.
"I liked the concept Dougal used — as he made it about the struggle for the birds to be allowed to sing, symbolising the struggle for women to be allowed to express themselves."
The other cast members were Eden Bishop-Jones, aged 17, Lauren Ghost, Louise Hatchard-Dougherty, Ashley Runeckles, Jemma Lord, and Molly Taylorson, and Joanna Hunt, all 18, and Lisa Steel, 20.
"It was so uplifting because there were a lot of young people who came along to see it who probably would never have thought about watching a musical before, but were interested in the subject matter and really enjoyed it," said Mr Gray.
"It is such a good musical that would appeal to all sorts of people and we would definitely like to perform it again. We would like to film it and I think it could work if we took it to the Edinburgh Festival."
Mr Irvine said: "I am really happy. It has been a real collaboration between me and the students and they brought a lot of ideas to the table.
"It has been empowering for them to see a show from through creation to production. They were also forthcoming with suggestions on how they could tweak it."
Main image: Level three musical theatre students perform musical Angry Birds. Inset right: Lola Adaja                                            Pics: Adam Sainsbury