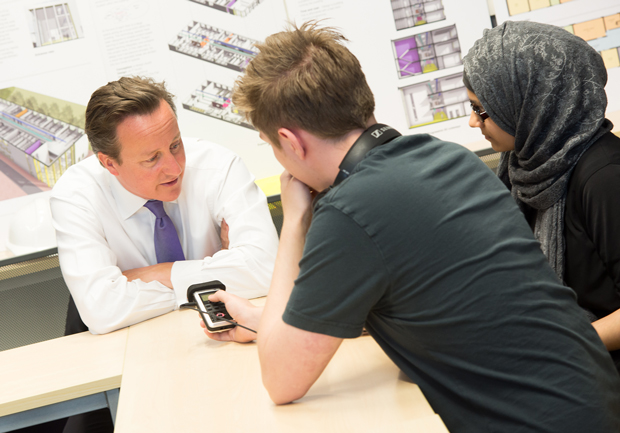 Two journalism students at Harlow College got a major scoop when they interviewed Prime Minister David Cameron.
Elliott Mees and Amina Ahmed, aged 19, who are studying for a National Council for the Training of Journalists diploma in journalism, grilled Mr Cameron on subjects ranging from his views on UKIP to his policies on the national minimum wage when he visited the college.
Elliott Mees said: "Earlier in the day, the headlines were all about Ed Miliband saying he would increase the national minimum wage, so we asked for his thoughts on this."
Here's Elliott's report:
When we were briefed about the visit, all we were told was that it would be a senior cabinet minister.
We didn't know it would be David Cameron until two hours before he arrived.
We quickly prepared some questions, ranging from his views on UKIP to his policies on the national minimum wage, structuring our questions in such a way as to try and get the most honest answers.
On the subject of UKIP, he said: "It's been a long and difficult recession but we are coming through it now, although it's been hard and people are concerned about particular issues. I just hope they will think very carefully come polling day because some of the things that UKIP and their financial backers stand for are pretty unpleasant and divisive and what we need in Britain is the politics of the answer, not the politics of anger."
Commenting on the national minimum wage, he said: "I support the national minimum wage and I want to see it rise but I think the right thing to do is to leave the decision with the Low Pay Commission as they will look at it very carefully. Interestingly, the latest rise in the minimum wage will happen under this government later this year, taking it from £6.31 to £6.50 an hour, which I really welcome."
Another aspect of the visit was to take a tour of the new University Technical College, which is opening in September 2014. We asked him what impact it will have for young people in this area.
"It will be a big boost because what we want to have is the very best schools and skills for our young people. Here in Harlow you have some great schools, as well as Harlow College, but to have a new UTC which will address skills shortages will give young people a real boost and a real chance in life. Variety, choice and excellence is what we want to see and I think the UTC will be providing all those things."
And with that, he was ushered away to another interview, and we were left to ponder the fact that, for one day at least, we were the only two students in the country who had just interviewed the Prime Minister.
Picture Caption: From left: Prime Minister David Cameron is interviewed by journalism students Elliott Mees and Amina Ahmed.