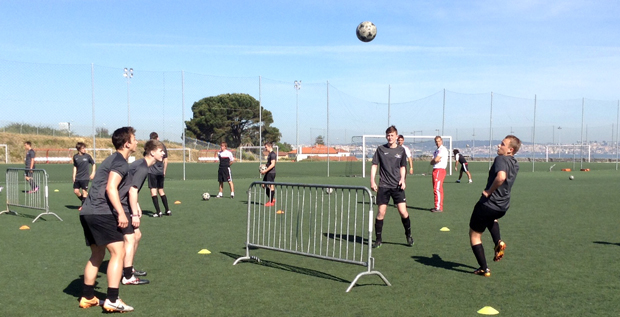 Wigan and Leigh College students received world-class training with table-topping Portuguese football club Benfica.
Learners on the college's football development programme spent two weeks with the club, which won the European Cup in 1960-61 and 1961-62 and claimed its 33rd domestic league title last season. They were put through their paces by the Benfica coaching staff and played matches against two local teams, which finished drawn, and a side from Gabon, in Africa, which they lost 3-1.
The students also took part in daily lectures and enjoyed a tour of the home of the Primeira Liga club, Estádio da Luz. Sports tutor Carl Wild said: "Benfica is one of Europe's
leading football teams and to be able to train under their staff was an invaluable experience."
The trip was funded by the European Union's Leonardo da Vinci Programme, which arranges overseas work-related experience for FE students.
Picture Caption: From left: Wigan and Leigh College students Harrison Brock, aged 18, Tim Raines, Joe Mapleston, both 17, and Josh Powell, 18, head a ball to each other at Benfica's training ground.