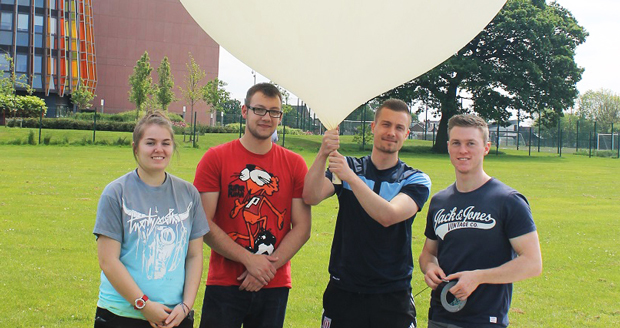 South Cheshire College students sent helium balloons 100,000ft above the Earth to take a series of spectacular photos.
The engineering foundation degree and BTec extended diploma learners spent six months designing the balloons to withstand extreme weather conditions.
They also programmed digital cameras to take continuous photos throughout the balloons' flights.
Mechanical engineering foundation degree student Laura Regan said: "Making the balloon capsule put a lot of the mechanical skills we have learned on the course to the test.
"Our aim was to get a clear image of the curvature of the Earth from near space using the balloon capsule and we've achieved that so it has been very rewarding."
Engineering lecturer Ray Beecham said: "This was an excellent effort by the students and they have managed to secure some first class images of the Earth."
Picutre caption from left: Mechanical engineering students Laura Regan, aged 18, Alasdair McGowan, 21, Dan Hudson, 20, and Matt Silver, 22, with one of their balloons.