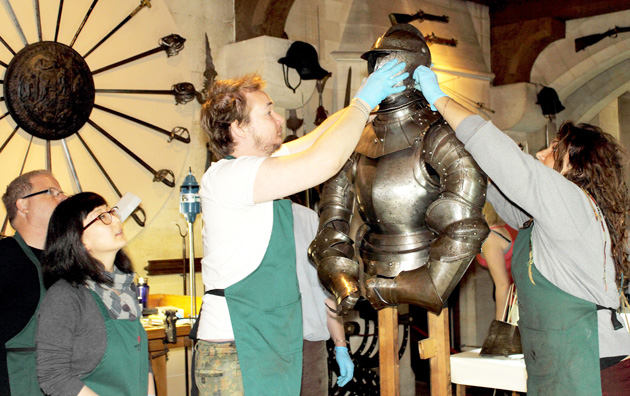 West Dean College students cleaned suits of armour at Arundel Castle.
Conservation of metalwork graduate and postgraduate diploma students from the West Sussex-based college, Bill Hawkes, aged 39, Dorothy Cheng, 28, Sophie Harris, 25, and Peter Jenkins, 24, polished and cleaned four metal suits that date back to the 16th and 17th centuries.
They also dismantled one of the suits so it could be fitted to a new mounting frame.
Second year postgraduate diploma student Sophie said: "It was a privilege to be given the opportunity to work [on the suits of armour] at Arundel Castle."
Conservation of metalwork tutor Jon Privett said: "Working on live heritage projects such as this forms a vital part of the students' training.
"It allows them to learn the whole conservation process from condition assessment, stabilisation and cleaning, to repair and sensitive restoration."
Picure caption from left: Conservation of metalwork students Peter Jenkins and Sophie Harris work on a suit of armour.