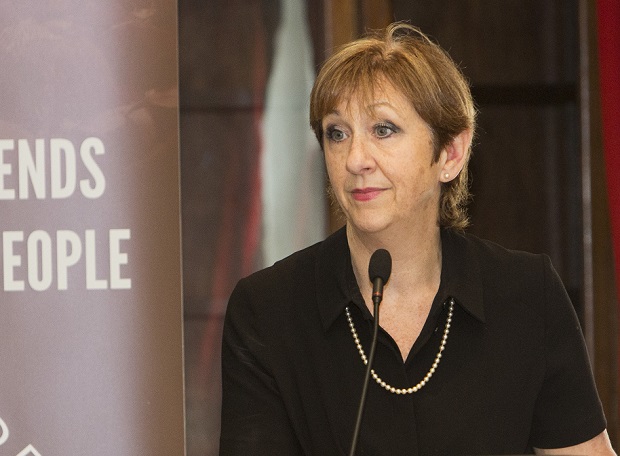 The chair of the Women's Leadership Network (WLN) has told how women at the top of colleges should "stand up and take a leadership role and be counted".
Sally Dicketts, pictured above, said female bosses had to play active roles in helping to improve the lives of female students.
In her keynote speech to the WLN annual conference in Marylebone, London, on Wednesday (May 21), Ms Dicketts — chief executive of the Activate Learning group of colleges — said there were three areas in which female leaders were important.
She said: "One is to help women to become and make better leaders. The second thing … is to help women, particularly our female students to respect themselves, their bodies and manage their lives more effectively.
"And the third thing is to help women transition into our sector and out of it effectively."
She added: "You can be a very powerful leader without having a position of power.
"Leadership is not about being the principal of an institution, or in my case a chief executive.
"A leader is about taking responsibility for yourself and others and doing it in a way which is kind, and that brings me to the second thing.
"Be under no illusion that young women today face a far worse future than we did."
Ms Dicketts pointed to BBC programme Blurred Lines: The New Battle of the Sexes, which aired earlier this month.
She said it highlighted "overtly sexist" and "horrendous" behaviour from young men towards women.
Ms Dicketts also spoke about a case in America in which two 18-year-old men raped a 17-year-old girl. She said the duo were jailed for less than six months while their victim committed suicide.
She added: "That's the world we live in and as women in colleges we can either collude or ignore it, or we can stand up and take a leadership role and be counted. I would ask you to talk to the young women in your college."
Former Institute for Learning (IfL) chief executive Toni Fazaeli is this year's WLN inspiring leader after being crowned at the conference on Wednesday.
Ms Fazaeli beat runners up including NUS president Toni Pearce and National Institute of Adult Continuing Education development and research director Carol Taylor.
Ms Fazaeli, who is now chair of governors at South Leicestershire College and a commissioner for the National Skills Commission, said: "It is a great honour and privilege to receive this award. I am proud to be associated with WLN and the work it does to encourage career progression and to raise awareness of the need for equality of opportunity throughout a sector where nearly two-thirds of the teachers and trainers are women.
"I am also very proud of IfL's impact on the way the sector thinks about leadership of learning and recognises teachers and trainers as dual professionals who are expert and stay up to date in their subject or vocational area, as well as in teaching methods."