Further Education Commissioner Dr David Collins (pictured) has taken his tally of college reviews to 10, and will outline findings with an annual report this autumn.
The Department for Business, Innovation and Skills (BIS) revealed that Dr Collins has been Weymouth College, Bicton College, City of Wolverhampton College and Stratford-upon-Avon College, on top of the six visits already reported by FE Week.
Dr Collins's role means he is called in to colleges when they receive a grade four "inadequate" rating from Ofsted, are presented with a notice of financial concern or fail to meet national performance standards.
All four of the colleges in the recent announcement had been given grade two or three ratings in their last inspections.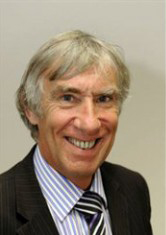 It was previously reported that Dr Collins had been to K College, Stockport College, City of Liverpool College, City of Bristol College, Lesoco and Barnfield College.
Summarised reports of the commissioner's college visits are expected to start being being released by the end of the month, but a senior civil servant has revealed that Dr Collins would also be producing an annual report on his findings.
Jon Howlin, assistant director for vocational education, said during a speech to a Westminster Education Forum seminar yesterday (Thursday, May 22) on accountability in 16 to 19 education and training, that the first annual report was due out in the autumn.
After speaking about the process followed by Dr Collins and his advisers during inquiries, he acknowledged the need to make the process open and accountable.
He said: "The process has been operating since August 2013 and we have done around 10 cases at the moment. We do recognise the importance that the process is open and transparent, and the sector can learn the lessons from those who have gone through the process.
"We intend to publish a more detailed process which builds on this high level summary in the next few days so all colleges and institutions can see how this works.
"The commissioner will also produce an annual report setting out the lessons learned from his assessments and the impact, hopefully positive, of the intervention process.
"The report will be published in the autumn and sent to all colleges and institutions."
It comes with the Department for Education (DfE) facing questions about the treatment of independent learning providers (ILPs) following a grade four, or inadequate, Ofsted inspection result.
Education Funding Agency senior manager Karen Murray told delegates that of seven "commercial and charitable"  providers — so possibly employer providers, as well as ILPs — graded inadequate, two had gone through a "recovery process" that allowed them to hold onto government training contracts whereas the remaining five, it is understood, lost their contracts because of the Ofsted grading.
The DfE is yet to respond on the issue.