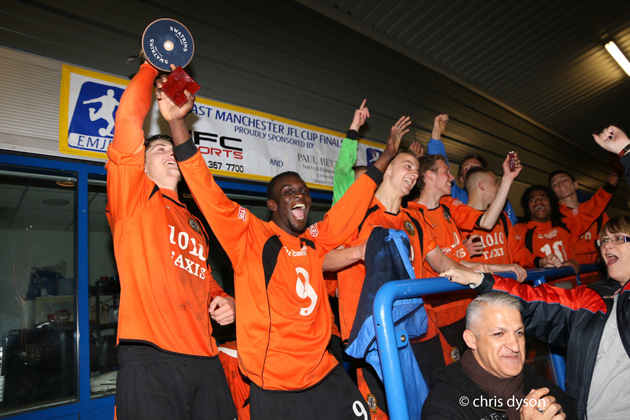 Footballers from Salford City College scored double success by winning the British Colleges Sport North West League title days after winning the Under-18 Manchester FA Cup.
They clinched the league title with a 3-0 result against Liverpool's Elite Academy.
The team also beat Salford-based side Barr Hill JFC 4-1 to win the county cup final.
Head of sports development and team coach Phil Arbelo-Dolan said: "I feel like this season has been 15 years in the making, since we first started a football team at the college and began to compete within the area.
"We have seen some outstanding players and coaches over the years, and this team has not disappointed in the slightest. The lads thoroughly deserve the success they have achieved this year."
Picture caption, from left: Advanced diploma in sports leadership students Jordan Poole (captain), aged 18, Mike Itela, A-level and Btec student Matty Bablinski, Advanced diploma in sports seadership students Luke Tonge, Josh Livesey, Kalvin Morris, all 17, Erike Souse, and Ben Steer, both 18, celebrate their victory in the Manchester FA Cup final