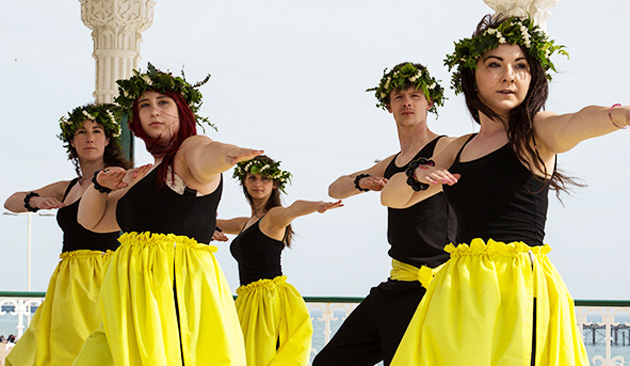 Level three street dance and film-making students celebrated the life of a Hawaiian princess who spent part of her life in Hove.
Princess Ka'iulani was heir to the throne of the kingdom of Hawaii until the monarchy was overthrown in 1893, a year after she moved to East Sussex.
She campaigned tirelessly against the subsequent annexation of Hawaii by the United States until she died in 1899, aged just 23.
Dance students from City College Brighton and Hove performed a specially choreographed hula dance at Hove Bandstand in her honour, which film-making students recorded for an exhibition on the princess which will be held at Hove Museum in August.
City College intensive support teaching assistant Jane Couldrey, who is organising the exhibition, said: "Ka'iulani was a very special person. Hula is a very sacred part of Hawaiian culture and we're honoured to have been able to perform this dance and, in a way, return the princess to Hove."
Picture caption: Tutor Rosaria Gracia and her street dance students, Nikita Weller, 20, Kornelia Koszak, 19, Michael Turner Lee, aged 21, and Brodie Tierney-Orr, 18, perform a hula in honour of Hawaiin Princess Ka'iulani at Hove Bandstand. Photo by Matt Stephens.