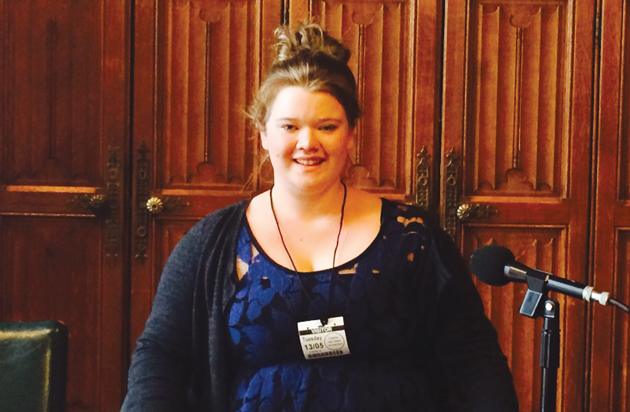 Young people often get portrayed as not having a positive attitude and not contributing to society. But Cirencester Sixth Form College student Bella Allen Stevens is on a maission to change all that and make teenagers' voices heard, writes Rebecca Cooney.
In 2012, just before starting a BTec performing arts diploma, Bella Allen Stevens, now aged 18, joined the National Citizenship Service (NCS), a government scheme helping young people develop life skills.
From there, Bella has given talks in the Houses of Parliament, is due to be featured in a TV documentary and is planning a trip to help communities in Zambia.
"I'd never heard of the NCS at all, until my head of Year 11 told us to get involved in the summer camp programme and I thought 'why not?'" Bella told FE Week.
"It changed my life."
After attending a team-building summer camp Bella's college nominated her to be one of 100 NCS national ambassadors.
"The message I want to get across is teenagers aren't the stereotype we're viewed as, instead we change things — people in my age group actually do more charity work than over 24-year-olds," she said.
Bella was then chosen as one of 10 NCS leaders running the 'Generation Citizen' project which supports community projects all around the country and was invited to the Houses of Parliament to speak to a panel of guests including Nick Hurd MP, Channel 4 political editor Gary Gibbon and former Labour MP and Home Secretary David Blunkett.
Speaking at the House of Commons, she said, was "scary… but really interesting".
"David Blunkett did this beautiful speech about what life was like when he was a teenager and how life has completely changed and how can we make it better — he's a lovely, really sweet man," she said.
As a result of her visit to Parliament, Bella has been asked, along with her father and grandmother to take part in a TV documentary called the Evolving Teenager, about how life has changed for teenagers in the last 100 years.
"My nan's really looking forward to it, she couldn't be prouder of me," said Bella.
But Bella is no stranger to the limelight — her ambition is to be a theatre director, and after entering a competition with youth arts charity Ideas Tap at the suggestion of her college tutor, she won the chance to have her own play staged in London last month.
The play, Stuck in Purgatory, explored the morality of religion.
"I had two weeks to finish the script, find a cast, have the lighting and set and everything done in two weeks – my friend was still making costumes for me on the bus ride over," she said.
"It was pretty stressful but it was literally a dream come true for me to see a play I wrote put on in front of people that I look up to it was brilliant."
Next on Bella's packed schedule is a project with the International Citizen Service — she's off to Zambia in August to work with Restless Development, a charity delivering sex education to young girls in the developing world.
But first she has to raise £1,500 to pay for teachers in Zambia and is planning a 70 mile sponsored walk around the Isle of Wight.
The reason Bella is always so busy, she said, is that: "I say yes to everything — I'm so glad I go out there and grab every opportunity.
"It all started when I heard about NCS, at the time I wasn't someone who volunteered, I would usually go home and sit on the sofa and that would be about it.
"And then I got involved with NCS — and I found out that actually I mattered.
"They were talking to me and asking my opinions… and I thought wow, I've my voice can change things, how much more can I do?"
Email bellaas1995@icloud.com to sponsor Bella's walk.
Main photo: Bella during her visit to the House of Commons