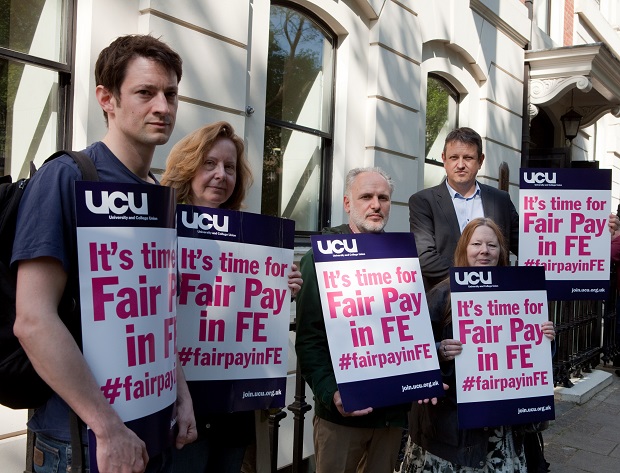 Pay talks between college staff and leaders are to continue after a 0.7 per cent pay rise was rejected by the University and College Union (UCU).
The UCU claims to have rejected the offer and told college bosses to "come back to the negotiating table with an offer that addresses members' falling pay over recent years".
UCU members picketed pay talks held with the Association of Colleges (AoC) on Friday. They were protesting over the pay offer and the UCU's claim that members had seen a real-terms pay cut of 16 per cent since 2009.
Michael MacNeil, UCU head of bargaining, said: "The employers' offer of 0.7 per cent looks little different from recent years and does not address our concerns about members' falling pay.
"To restore any credibility to these national pay negotiations the employers need to demonstrate that they are prioritising staff.
"We hope the AoC will return with an offer that better reflects our demands. We have our annual conference next week where I am sure delegates will express their frustration with the failure of the employers to seriously address our claim."
Marc Whitworth, AoC director of employment policy and services, said: "Negotiations with trade unions continue, with a second meeting held on Friday.
"All parties acknowledge the challenges colleges face with funding, and that local affordability is a key consideration when looking at implementation of any final recommendation.
"Detailed information on college funding has been a central part of discussions, with AoC providing details which unions have been encouraged to share with members."
The next meeting is due to take place on June 18.