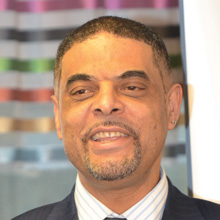 A Hampshire principal caught up in a Twitter row in which BBC presenter Jeremy Clarkson was labelled a c*** has called off his move to become a chief executive.
Anthony Bravo (pictured above) was signed up to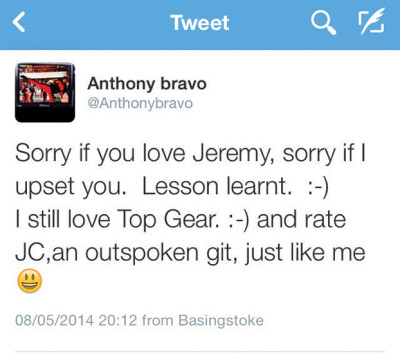 leave Basingstoke College of Technology (BCoT) for the job at Bradford College Group but, less than a fortnight after apologising on the social media website for retweeting the offensive message, he has now "withdrawn his application".
Mr Bravo, who was due to start at the 25,000-learner Bradford college in September, declined to comment on his retweet, which he followed with a further tweet saying a complaint had been made to Bradford and BCoT and that "if people don't like it they should unfollow". The tweet was also later deleted, before tweeting his apology (pictured). However, he said his decision to pull out of the move, announced by Bradford College on April 11, was down to "the potential impact on my family".
Bradford College said the retweet had no bearing on Mr Bravo not moving to the new role and his current employers at BCoT said he would be staying on with them, but a social media and FE sector expert has nevertheless called for colleges to adopt Twitter policies to protect their reputations.
Mr Bravo returned from a month long trip to China to create links between Basingstoke, which has around 11,000 learners, and Chinese colleges at the beginning of the month. He said: "While I was away I had time to reflect on the decision and the potential impact on my family and felt the distance would be too disruptive. There are lots of exciting projects underway at BCoT, especially new relationships with colleagues in China that I look forward to developing."
A BCoT spokesperson said: "The governors welcome the decision and look forward to supporting Anthony in continuing our growth and quality improvement strategy."
A spokesperson for Bradford College said: "Having reflected on his domestic circumstances, Anthony Bravo has decided to withdraw his application for the post of group chief executive. We wish Anthony every success for the future."
Social media expert Ruth Sparkes, director of education PR company EMPRA, said: "This is a reminder as to why colleges should have a social media policy, and a strategy that is understood by everyone in the organisation. Reputations can be won and lost in a single tweet."
Bradford College is expected to re-advertise the chief executive role — the fourth time it has done so since the beginning of the year, when current chief executive and president of the Association of Colleges Michelle Sutton said she would be stepping down.
Editorial
It's no word game
The brief history of Twitter is already littered with ill-judged postings.
It's a history that now counts avid tweeter Anthony Bravo among its victims, regardless of why his move to Bradford is off.
He has walked a fine line with tweets from China — while 'on duty' as a college principal — that some may see as silly, fun, or even welcome proof of a human face in a usually out-of-reach position of authority.
Meanwhile, others may think they cast too unprofessional a shadow on the college, and even the sector.
But there's no doubt his public use, albeit retweeted, of such an offensive word was something exceptional.
Mr Bravo is a popular and friendly figure so it's easy to believe his apology (printed on the front page) was sincere.
If only he hadn't had to issue it in the first place.
Chris Henwood, editor