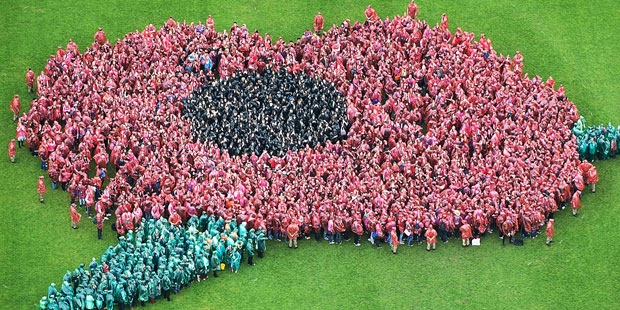 Staff and students from the Sixth Form College Farnborough helped create a giant human poppy to commemorate 100 years since the outbreak of the First World War.
They posed in the college rugby field for the aerial photograph with soldiers, local councillors, school children, and representatives from the Royal British Legion.
A total of 2,250 people dressed in either green, black or red and formed the shape of a giant poppy.
They broke the Guinness world record for the largest gathering to create a human flower.
Principal Simon Jarvis said: "The college was honoured to be able to host this record breaking event. We are delighted that so many staff and students from the college and members of the local community played their part in helping to establish a new world record, raise funds for the Royal British Legion and commemorate the centenary of the start of the First World War."
Cap: Staff and students pose with soldiers, local councillors, school children, and representatives from the Royal British Legion to create a giant human poppy