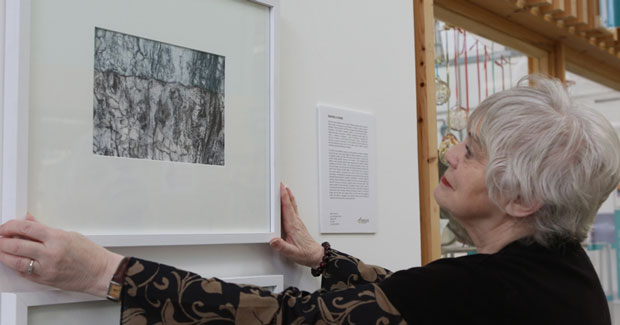 Artwork baked in the oven and electric sander-scoured paintings are the kind of offerings you might expect of Young British Artists Damien Hirst or Tracey Emin, but college HND student Stephanie Sanders is turning heads with such pieces at the age of 69, writes Paul Offord.
After a working life spent in retail, Stephanie Sanders decided to follow her passion for fine art in retirement — and at the age of 69 she has just taken part in her first exhibition.
She achieved a distinction in an art foundation diploma at Birmingham Metropolitan College Art & Design two years ago and stayed on to do a fine art higher national diploma (HND).
And her distinctive approach, that includes baking works of art in the oven and even using an electric sander on paintings, has paid dividends with three of her pieces having been displayed, along with those of other fine art students, at an exhibition at Ruskin Glass Centre, in Stourbridge.
"The good thing about being older is that you don't mind being a bit different about things. I like experimenting," she told FE Week.
"I don't think age should be a restriction when it comes to learning — I feel like I'll never be too old to learn and the HND has allowed me to put my creativity into practice in ways I never thought would be possible."
Stephanie added: "I had always been interested in art in the past, but never completed any formal training.
"It's good to have a group of like-minded students around you and a tutor giving good advice.
"There aren't any other students my age on the course [they range from 20 to 53 years old]. But I have made some really good friends. We all support each other."
Linda Drury, course leader in fine art, said: "I think it is fantastic that Stephanie came back to education later in life. She is talented and prolific and I am sure she will succeed at putting on her own exhibitions after leaving college."
Stephanie, a mother-of-two from Stourbridge, decided the time had finally come to develop a lifelong passion for art four years ago.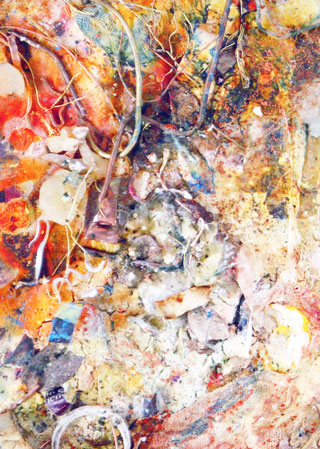 She enrolled on a level four art foundation diploma at the Birmingham Metropolitan College Art & Design. She achieved a distinction two years later after working in textiles, fashion, fine art, graphics and illustration and three-dimensional art.
Stephanie progressed to a level five higher national diploma (HND) in fine art, which she is due complete next month.
She said: "The course has been really good for preparing us for exhibitions, as we've had to research the venues ourselves, send out invitations and hang our own work for our own exhibition [at Ruskin Glass Centre]."
She added: "For those pictures, I took photos of corrugated iron that had rusted.
"I wanted to reproduce the texture of the iron, so I replicated the photos with black and white oil pastels then worked into them with the blade of a pen knife."
One of her current projects involves painting layers of red, blue and yellow acrylic paint on top of each other, on a variety of different surfaces.
"I started off with bits of card but then moved on to A1-sized sheets of birch-faced ply wood," she said.
"I used an electric sander on the layers of paint to see how the colours mixed together and kept the dust because that made another mix of colours that I can use.
"Sometimes I have been known to put things in the oven and cook them to see what happens. I recently put some wood I had painted with layers of colours. I wanted to see what would happen when the paint heated up and blistered."
She added: "I'm really interested in different textures and have also used layers of wax and stones, bits of copper, personal items like an earring, which I mixed with bits of glass, plaster and cornflower."
Cap: Stephanie Sanders with some pictures she exhibited at Ruskin Glass Centre. Inset: A work of art created by Stephanie for her art foundation diploma containing corn flower, bits of copper and an earring