Department for Education (DfE) ringfencing of school funding has been labelled as "unsustainable" by the Association of Colleges (AoC) as it predicted a departmental budget black hole of £4.6bn.
In a report by the AoC on the DfE's financial situation, it warned of a budget deficit of £600m in 2015, rising to £4.6bn by 2018/19.
And with the DfE responsible for funding the education of 16 to 18-year-olds, AoC assistant chief executive Julian Gravatt raised concerns about the sustainability of a ringfence which protects schools funding — but leaves the FE sector open to cuts.
He told FE Week: "I think there needs to be a look at what spending levels need to be at each age.
"The ringfencing is only a problem if it protects 80+ per cent of the budget and all savings have to be made elsewhere. The ringfence is unsustainable given the impact it has on the areas of the budget.
"The first thing to do is persuade the DfE to be more open about its own forecasts and work with us. The second thing to say is that budgets haven't been set for after 2015 and are still open for the next government to put more money in.
"It's important to remember that this problem only exists if spending doesn't increase. If pupil numbers go up the main thing is to address that."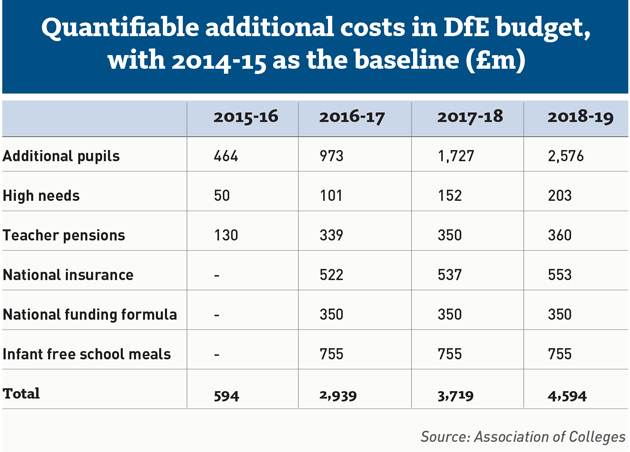 In its report, the AoC explains that the projected deficit is associated with an anticipated increase in the number of people of school age, coupled with increased teacher pay and pension contributions as well as costs associated with new policies.
The report also takes into account a planned 17 per cent real terms spending cut across all departments between 2015 and 2019 and the AoC has said the government is yet to announce whether the school budget, which has been ringfenced since 2010, will continue to be protected.
Mr Gravatt added: "There needs to be a discussion about what choices are available, and people will have views about where savings can be made. We are worried about this assumption that you can continue cutting 16 to 18 budgets without consequences.
"The danger for colleges is, as the main providers of 16 to 18 education which turn lots of people around who failed at 16, that they would be doing that with fewer people and wouldn't be able to make the improvements people want them to make.
"Pay costs in colleges are about two-thirds of expenditure, whereas in schools they're about 80 per cent. If this budget issue is not addressed, you're either going to get fewer people or cuts in pay. Our message to the government, and to all parties, is that there is an election in a year's time, and they need to be open about this."
But the report has been dismissed by the DfE, described it as "speculative".
A spokesperson said: "These speculative figures are based on analysis of a budget that does not even exist yet.
"Our budget after 2015-16 will be a matter for the government's next Spending Review, which as usual will give full consideration to future cost pressures.
"We have received excellent settlements between 2010 and 2016, enabling us to protect school funding in real terms while the government tackles the deficit."
Mr Gravatt said the further education and sixth form colleges represented by the AoC educated more than 900,000 14 to 19-year-olds each year and relied on funding from the DfE totalling £3.8bn.
The full report, which includes a more detailed breakdown of the projected costs, is available to download and read online at aoc.co.uk.