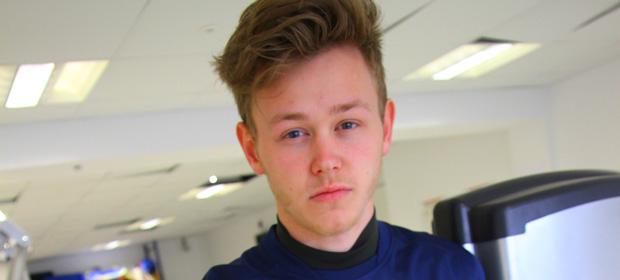 West Cheshire College performing arts student Macaulay Cooper's face will be familiar to millions of football fans across the world. He starred in a Nike advert with several of the world's greatest players that was screened for the first time during the Champions League semi-final, writes Paul Offord.
Fancy a kickabout with soccer superstars Cristiano Ronaldo, Andres Iniesta, Zlatan Ibrahimovic, Neymar, Wayne Rooney, Gonzalo Higuain, and Gerard Pique?
It may be the stuff of dreams for most teenagers — but fantasy became reality for level four performing arts student Macaulay Cooper when he was chosen to star in the latest Nike advert.
The star-studded four-minute film, which was screened for the first time last month at half-time on ITV during the second leg of the Champions League semi-final between Bayern Munich and Real Madrid on April 29, featured a kickabout between a group of boys.
They all transform into their favourite players during the match, with 19-year-old Macaulay changing into Barcelona and Brazil forward Neymar.
Macaulay said: "All the boys got to meet the stars they turned into in the advert.
"I met Neymar and we did a photoshoot together. He could only speak the odd word of English, but he was a very nice guy.
"He was dead chilled out and had a bit of a joke with me."
Macaulay also mingled on-set with Real Madrid forward Ronaldo, Barcelona stars Iniesta and Pique and Napoli striker Higuaín.
Macaulay said: "It's mad because you see them on TV playing week-in week-out and all of a sudden you're with them.
"I would be at college one day, then on set the next. I watched them do all the tricks from the advert and more close-up.
"It was all like a dream really."
Macaulay had West Cheshire College head of music, theatre, and performance Paul Moss to thank for helping secure his big break, as he invited acting agent Elizabeth Stocking to watch him perform the lead in a college production of Peter Shaffer's play Equus in June last year.
She was so impressed she agreed to represent Macaulay and arranged for him to audition for the advert in Manchester.
He said: "They didn't tell us what we were there for at the first audition, but we had our suspicions as it was called Project Kick and they said it was for a major sports firm.
"We had to say some words and they wanted to see what we could do with a football. I'm a striker with my local team Connah's Quay Tigers so it was ideal.
"It was only at the third audition that we found out it was for Nike."
Macaulay was told he had the role in December and spent much of January and February filming in Madrid and Barcelona.
He said: "All our movements on the pitch were choreographed and we had training sessions to make sure we were on top form with our ball skills and able to deal with the physical side of running around filming.
"It was unreal. There must have been about 100 people in the crew working on lighting, cameras, costumes, make-up and things like catering. I must have said my lines 'winner stays on' and 'yeah, well I'm Neymar then' 50-odd times, as there was a lot of changing of camera angles and I had to try saying it different ways."
Mr Moss said: "We are so proud of Macaulay's achievements. For him to land a speaking role in a high profile advert with an internationally leading brand is incredible."
Cap: Macaulay Cooper holding a football