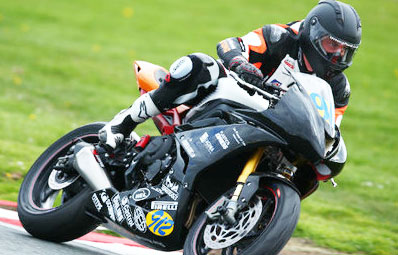 Former Lance Corporal Murray Hambro lost both his legs below the knee in a landmine explosion while on patrol in Afghanistan in 2010, but last month the 34-year-old motorcycle maintenance and repair student started his second season racing in the Triumph Triple Challenge Racing superbike series, writes Paul Offord.
Chichester College learner Murray Hambro is no ordinary motorbike racer.
The 34-year-old former soldier suffered horrific injuries when his tank was blown up by a landmine while on patrol in Afghanistan in December 2010.
The former Lance Corporal in the Second Royal Tank Regiment had driven motorcycles since he was a child, but having been fitted with prosthetic limbs after the explosion, a surgeon said his racing career was over.
But Murray took no notice and bought a brand new Triumph Daytona 675 after leaving hospital.
Murray said: "The bones in my feet were shattered by the force of the explosion and I also broke my pelvis and shattered six vertebrae.
"The treatment I received was second-to-none, but I remember a surgeon asked what my hobbies were.
"I told him I liked riding motorbikes and he said I would probably have to find something else. That was like a red rag to a bull to me."
Murray searched on the internet to find out what modifications he would need to ride his new bike.
He said: "The rear braking is normally done with your right foot, but I found out I could have it converted so I could activate it with my right thumb.
"Gear changes are also normally done with the rider's left foot, but I got a button connected to the handlebars to do that."
He started his first season in the Triumph Triple Challenge Racing superbike series, which was televised on Eurosport, in March last year.
It involved racing at up to 160mph over nine weekends at famous courses across the country, including Silverstone, in Northamptonshire, and Brands Hatch, in Kent.
He was the only competitor with prosthetic limbs but finished 28th overall out of 34 competitors.
Murray also started on a level two motorcycle maintenance and repair course with Chichester College in September last year, which has given him the skills to carry out repairs when his bike crashes or breaks down.
He said: "I was recently given a new Triumph Daytona 675 by my sponsors and some of my fellow students helped me carry out the same modifications that I had to get mechanics to do before.
"I'm planning to take it a step further start a level three course in September."
Murray's wife Hannah, aged 32, who is mother to his one-year-old son, Harley, is fully supportive of his racing career.
He said: "My main goal after I was injured was actually to walk by myself down the aisle on my wedding day [on August 28, 2011], which I managed. There is always a bit of worry now on Hannah's part [for his safety while racing], but she is really supportive and comes along to some race weekends."
He is a member of the True Heroes Racing team, which uses competitive motorsport to support injured UK service personnel.
Murray said: "I had no idea what would happen with my recovery after the explosion, as it all happened so quickly, but I was back on a motorbike after four months and even able to ride a bicycle with my prosthetic limbs a month later."
Cap: Murray Hambro racing his Triumph Daytona 675 motorbike.