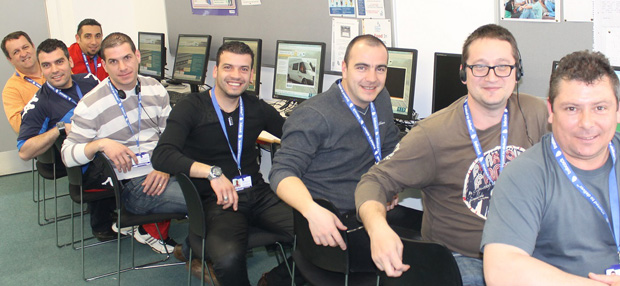 South Cheshire College helped a group of Romanian rail workers break down the English language barrier.
Babcock International, which repairs track and signalling for the national rail network, payed for eight of its Romanian employees to study level one, two and three English functional skills courses.
They were also prepared for an online exam, which they passed, that tested their knowledge of the UK rail industry.
English teacher Christina Martinez said: "Some of the group spoke better English than others when they first arrived here, but they have really knuckled down to their studies.
"Hopefully, the functional skills programme has given them a much better grasp of all aspects of the English language and the confidence to progress in the workplace."
One of the students Daniel Ivan, aged 36, from Onesti, in Romania, said: "It has been challenging but very rewarding at the same time because we all speak better English now."
Cap: Romanian rail workers Ivlian Dideanu, aged 41, Ioan Manoila, 45, Sebastian Gheorghe, 34, Remus Constantin, 34, Cohstantin Gheorge,
31, Costin Pavez, 35, Daniel Ivan, and Virgil Tanase, 45