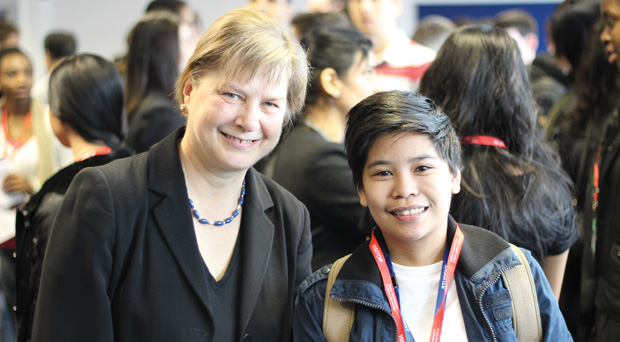 Local MP Angie Bray dropped in to Ealing, Hammersmith and West London College's apprenticeship fair to find out more about the programme.
The Ealing Central and Acton MP joined more than 30 organisations, including Lloyds Bank, Ealing Council and the Army, who were promoting their apprenticeship opportunities to young people in West London.
Ms Bray said: "Apprenticeships are a great way to start out. What we're seeing is the more apprenticeships are taken up, the more the word gets out there.
"Young people are hungry for apprenticeships and it's really starting to take off."
Terry Amoah-Boateng, aged 19, attended the event and wants to train to become a fitness instructor. He said: "Events like this are helpful for young people like me to talk to potential employers about apprenticeships."
Cap: Angie Bray MP with ESOL student Laurrice May Cuyong, aged 19