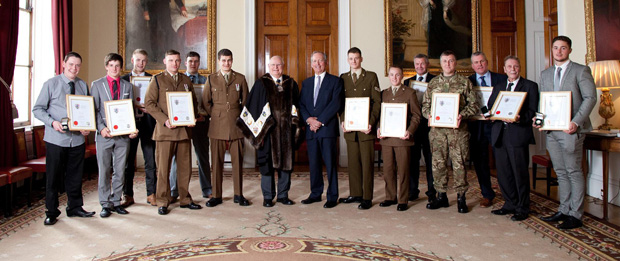 A gold medal winner at WorldSkills 2013 has been recognised as a master craftsman by a historic representative body for builders and tilers.
Ashley Terron, aged 21, who completed an advanced level three apprenticeship in construction building with Warrington Collegiate and his family firm Peter Terron Construction three years ago, set a world record for the highest marks ever awarded for bricklaying at the prestigious competition in Leipzig, Germany.
He has now been recognised as a master craftsman by the Worshipful Company of Tylers and Bricklayers — a representative body for tilers and bricklayers that was granted the Royal Charter in 1568.
Mr Terron travelled with Rob Holmes, a senior lecturer in brickwork and Ashley's former tutor to London for the company's annual craft awards lunch where he was presented with a certificate and medal.
He said: "From starting my apprenticeship in 2008 I have always aspired to be the best. I hope that my achievements will inspire others to strive for excellence in their own career."
Cap: Ashley Terron (third from left) with other award winners at the ceremony and David Cole-Adams, master of the Worshipful Company of Tylers and Bricklayers (centre left), and Alan Yarrow, alderman at the company (centre right)