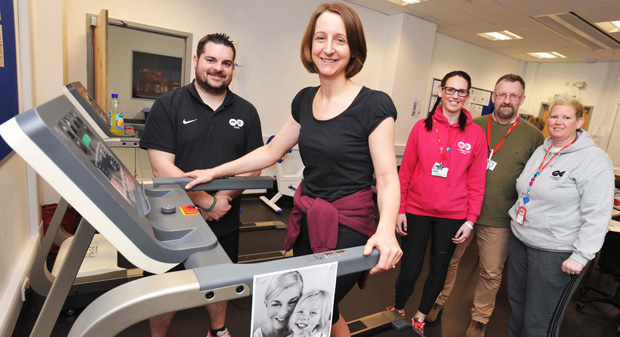 Brave little Evie Clasper has new hope for life after a heart transplant operation over the Easter weekend. And nobody will be happier than staff and students at Middlesbrough College who raised more than £1,500 for the heart unit that has been treating her, writes Paul Offord.
Staff and students at Middlesbrough College went the extra mile for a brave little girl whose life has been blighted by heart problems.
Three-year-old Evie Clasper, whose aunt, Helen Spencer, is an administrator in the college's health and care department, was diagnosed with hypoplastic left heart syndrome before birth.
She has spent much of her life on the operating table and with the Children's Heart Unit at Newcastle's Freeman Hospital.
Her fight for survival has caught the imagination at her aunt's college, where 20 volunteers aimed to raise money for the college by completing 86 miles between them on running machines — the length of the round trip between the college and Freeman Hospital.
But they ended up completing more than 200 miles, which raised more than £1,500 for the hospital's Children's Heart Unit.
Ms Spencer said: "The support we've received has been amazing. People want to help in any way they can and we've already exceeded all our expectations by the number of people volunteering to take part and the donations that have flooded in."
Evie was diagnosed with heart problems when her mother [Miss Spencer's sister], 41-year-old Dawn, was 20 weeks pregnant with her.
She needed surgery as soon as she was born and endured 14 operations before doctors finally allowed her parents to take her home in December 2010 when she was six months old.
And a suitable new heart was found for little Evie on Saturday, April 19.
Miss Spencer said: "We found out she was getting the transplant at lunchtime [on Saturday] and she was in theatre a couple of hours later for an operation that took 12 hours.
"She has been a stable condition since. It was the best possible Easter present. Her skin was pale and her lips would often go blue before the operation, but they are now a healthy looking pink."
Most of the miles for the fundraising event were clocked up on exercise treadmills at the college, with principal Zoe Lewis running the first mile.
She said: "We know how important the children's heart unit is to poorly youngsters across the region and we're proud to show our support in any way we can."
Most people who took part walked or ran three miles.
But health and care lecturer Karen Gibson and course co-ordinator Laura Cochrane, who also helped organise the event, ran 10 and eight miles respectively.
The only volunteers who did not use the running machines were health and care lecturers Dan Yates, 52, and Matt Hopton, 39, who opted to walk 43 miles from the college to the hospital over two days. Miss Spencer said: "Evie's mum was texting me all the time asking how it was going. They are really proud of what we have done and told Evie about it."
Visit www.justgiving.com/chuf to boost the fund.
Cap: Zoe Lewis, Middlesbrough College principal, walking the first mile for the fundraising event and (from left) staff members Matt Hopton, Laura Cochrane, Dan Yates and Helen Spencer