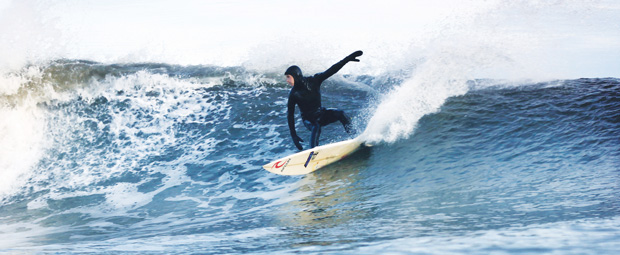 Life is a balancing act between surf and study for Tyneside 16-year-old Louis Thomas-Hudson. But the Queen Alexandra Sixth Form College student has managed to stay afloat with his A-levels while qualifying for the under 18 British surf squad, writes Yasmine Blackman.
"With surfing you can constantly travel, keep fit and have a tan," says competitive surfer Louis Thomas-Hudson.
The lifestyle certainly sounds idyllic — even if he does most of his training in the freezing North Sea, near his home town Tynemouth, North Tyneside.
The teenager balances his surf passion with A-level studies in media, business and sport at Queen Alexandra Sixth Form College, in North Shields.
He said: "I generally do my coursework around the surf. I work better after a surf anyway. I can always find time to squeeze both in.
"Even though I have been training quite a lot lately, my teachers at college have been brilliant and have given me work to take away with me so that I don't fall behind.
"They will always let me have time off for all of my surf trips and the training camps that I need to go to.
"They give me work to do either before I go away, or to catch up on when I'm home."
College head Denise Bolton said: "Despite all of the training sessions here and abroad that Louis has had to attend, he has managed to keep up with his course work.
"He is a very determined young man and we wish him all the best with his surfing career. I am delighted that he has been picked to train with the British squad."
Louis was selected for the six-man under 18 British surf squad through finishing sixth in his age group in the UK Pro Surf Tour — after he won eight competitions in Cornwall, North Yorkshire, Northumberland and the north coast of Scotland.
He recently spent a week with the squad at a high performance surfing training centre in Viana do Castelo, Portugal.
The teenager thinks his sport studies course help him cope with the elite-level training.
He said: "When we're doing the circuit training, muscular endurance or muscular strength, I'm relating it to surfing.
"It gives me an idea of what kind of muscles I'll be using and when I'm surfing, which ones I'll be using the most.
"I was so happy to have been picked for the British squad. Surfing is my passion and staff at college have been really supportive."
The teenager has also travelled to Hawaii, Indonesia, France, Spain and Morocco for competitions.
He said: "Unfortunately, the North Sea is definitely not as consistent as those places, especially not Hawaii.
"Sometimes I don't surf for around three weeks due to lack of waves. The Cornish and Portuguese can surf pretty much every day.
"The sea is considerably colder here in the North East. You have to wear hoods, boots and gloves for the majority of the winter."
Louis, who has been surfing since he was six years old, won the under 12 British national championships in 2007 and 2008.
He was taught to surf by his dad, Stephen Hudson.
Louis said: "My mum [teacher Melanie Thomas] and my dad are both really supportive. They take turns in driving me down to all of the competitions that I need to get to."
Cap: Louis Thomas-Hudson riding a wave in the North Sea, off the coast of Tyneside