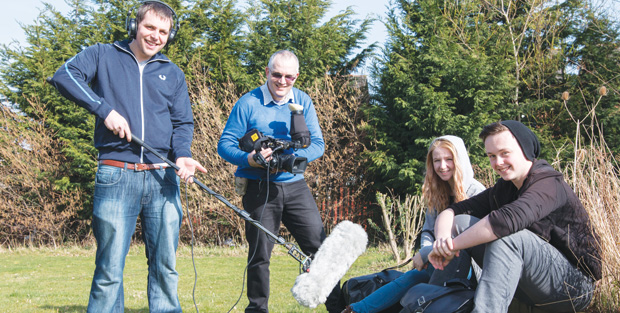 Young actors in the North East stole the scene when an award-winning film company held auditions for its latest show at their college.
Drama students at Sunderland College were invited to take part in a psychological thriller, entitled Temporal, produced by Solarus Films.
Producer Theodore Divanis said: "We were actually blown away by the students and re-wrote the script to give them bigger roles.
"Every single one of the students was fantastic, very professional and a pleasure to work with — we'll definitely be working with some of them again as they are rising stars."
Parts of the film were shot on location at the college, allowing more students to get involved as extras.
Drama lecturer Gemma Whelam said: "We are delighted our students' skill and talent has been recognised by such a high profile film company."
Cap: Director Rob Burrows, writer and producer Theodore Divanis with Sunderland College students and actors Kate Hope and Alex Parkin-Goodchild, both aged 17