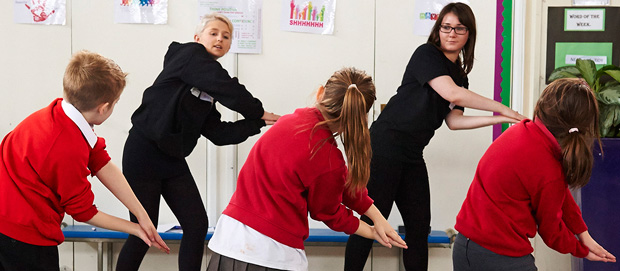 Learners from Macclesfield College used their creative talents to get an anti-bullying message across to primary school pupils.
The level two performing arts students created bullying-themed drama scenarios and helped year three and four children from Hurdsfield Primary School, in Macclesfield, act them out.
The learners, who were also challenged to organise enjoyable warm-up activities for the school children, wore hooded tops branded with an anti-bullying logo designed by level three graphic design students from the college.
Maura Shilton, lecturer in creative studies and visual media, said: "It was great to work with the school because the pupils were so enthusiastic and our students benefited from gaining valuable work-related learning experience, helping to build their confidence."
Cap: Students Mia-Iola Adam (second from left) and Charlene Salthouse, both aged 16, show the primary school pupils some dance moves.