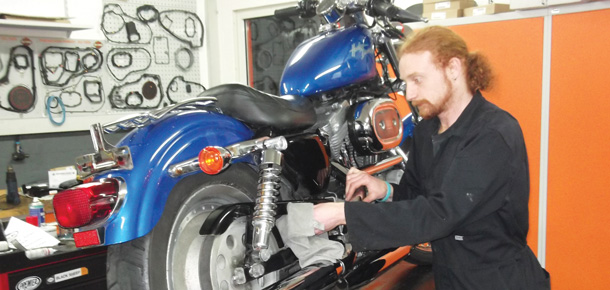 Derby College learners spent two weeks gaining work experience in Germany.
The students, who are all working towards level three engineering, information technology, or motor vehicle qualifications, travelled to Derby's twin town Osnabrück through a work exchange programme organised by the European Union.
They were hosted by Osnabrück Technical College and worked with a range of local employers.
Motorcycle maintenance student Craig Glover, aged 29, worked at a Harley-Davidson dealership customising machines.
He said: "This work experience will be invaluable. Everyone was very welcoming and spoke such good English that I only really needed to use German when out in the town rather than at work."
The other learners who took part were Jack McDonagh, 17, Daniel De Barrie, Shane Ireland, both 18, Lewis Slack, Craig Kerry, Mitch McMeechan, Samuel Woodward and Ansar Maqsood, all 19.
Cap: Craig Glover working on a Harley-Davidson motorbike in Germany