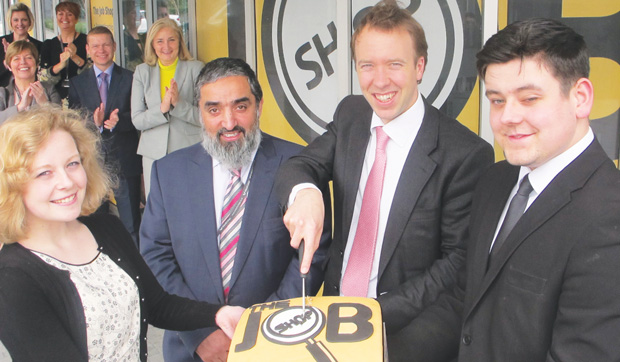 Skills Minister Matthew Hancock congratulated Walsall College on doing a good job as its Job Shop celebrated its first anniversary.
Since April 2013, the Job Shop has helped 642 apprentices to find jobs, offered training to nearly 300 job seekers and given 144 people pre-redundancy support.
Mr Hancock said: "There is no doubt that many schools and colleges could learn from Walsall College.
"The focus on raising student expectations and confidence, combined with the cutting edge technology, and the clear focus to help them progress to a job or apprenticeship runs throughout everything I have heard here today."
The college has set itself a target to recruit a further 222 apprentices and 120 traineeships through the Job Shop by June.
Cap: Level two business administration apprentice Laura Farmer, aged 18, deputy principal for delivery and success Fazal Dad, Skills Minister Matthew Hancock and level two business administration apprentice Thomas Bell, 18