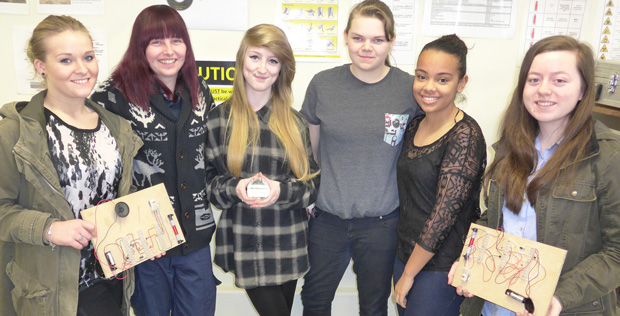 An all-female team of MidKent College learners proved they were on the same frequency by winning an engineering competition that challenged them to build a working radio.
Level three engineering students Katie Emery, aged 16, Emma Nelson and Lauren Wells, both 17, Sophie Everest-Ford and Dylan Halpin, both 18, and Jessica Beckley, 19, triumphed ahead of five teams from other colleges at the Stem (science, technology, engineering and maths) Fest at neighbouring East Kent College.
The competition required teams of students to follow a set of instructions to create a working radio, then give a presentation on how they would improve it.
The students, who are the only females on their course, won the £500 first prize.
Miss Halpin said "Engineering isn't very popular with many girls. I think it's seen as a dirty, manual job, but that doesn't put us off at all. It was good making the boys jealous.
"We spoke about how we would like to make it smaller so it would be more appealing to a younger age group."
Pictured from left: Jessica Beckley, Sophie Everest-Ford, Emma Nelson, Lauren Wells, Dylan Halpin and Katie Emery