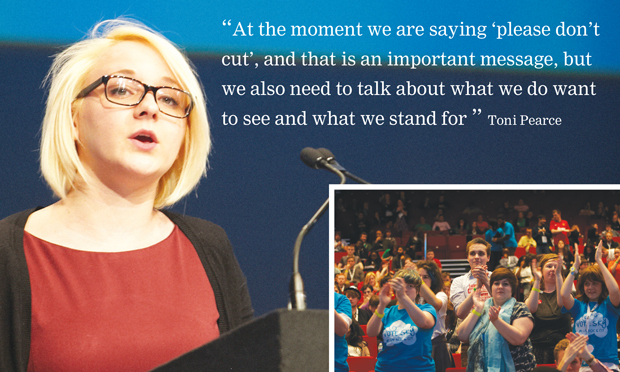 The National Union of Students' National Conference took place in Liverpool this month and resulted in re-elections and new campaigning vigour, writes Freddie Whittaker.
The National Union of Students (NUS) needs to be "more ambitious" in talking about FE funding, newly re-elected president Toni Pearce has told FE Week.
The former Cornwall College Student Union president was last week elected for a second term, and with a general election looming, she will be a key ally for a sector plagued by funding cuts.
Ms Pearce made history last year when she became the first NUS president to have never studied at university. She had previously been the union's vice-president for FE — a post now assumed by her successor at Cornwall Joe Vinson.
And, speaking to FE Week shortly after her re-election, Ms Pearce said the union had to look to the future in its fight for FE.
"We need to be more ambitious about how we talk about how FE is funded," she said.
"At the moment we are saying 'please don't cut', and that is an important message, but we also need to talk about what we do want to see and what we stand for.
"For me, I don't think our aims have changed. What we have been talking about for the last year is about what education looks like for every student and what system we want to see in place. We want to make sure we are delivering for all students."
She said the NUS would be working more closely with the Trades Union Congress (TUC) on improving employment prospects across the board, and aiming to play a bigger part in the communities of the UK.
She said: "For a long time we have isolated ourselves in the student movement, away from our communities, but we don't just exist in a vacuum — we are not just students, we are citizens as well."
And she is keen to get out of a similar "vacuum" when it comes to talking about FE and its funding, claiming their argument needed to be more about what they want than what they don't want.
She said: "I think it is about saying we shouldn't just be talking about FE funding in isolation, and whether we should be making the case for a properly-funded single system of tertiary education and funding students properly through the whole of their educational journey."
She said NUS campaigning against funding cuts would remain strong, but that the conversation would shift towards "what the future could look like".
Careers advice is also high up on Ms Pearce's priority list, and she says she plans to continue the fight she started when she first campaigned for re-election.
She said: "Careers advice is one of the things I talked about a lot last year, because there is an embedded bias against FE in careers advice and guidance.
"But you can hardly blame the schools in certain circumstances. I know it is wrong, but there is a perverse incentive there.
"It's difficult because for a long time people have been told that the only way to be successful is to go to university, and for someone like me this is quite a personal issue, and we have to talk about it.
"We have to be living in the 21st Century. We don't just leave school and get a job for life anymore. At the moment, the message is 'make a decision at 14 or 16 and that's it', there is no chance to change your mind."
FE motions passed at conference included a response to proposed changes due to be made to GCSEs and A-levels from next year.
Conference resolved to conduct research into the state of level two and three vocational qualifications, which it said were being "marginalised" by the government.
Delegates also resolved to continue to campaign for the improvement of independent advice and guidance in schools and ensure the National Careers Service meets students' needs.
There was also an emphasis on an improved learner voice, with the existing participation often "seen as a box-ticking exercise". Delegates called for "well-funded, adequately-resourced and student-led unions", which they said remained the "exception to the rule in FE".
Proposals by Belfast Met Students Union for a "mass campaign to defend FE" failed to make it as an amendment to another motion. The proposed amendment had sought to launch a "defend FE" campaign and hold mass meetings in colleges to oppose cuts.
————————————————————————————————————————————————————
Pearce and Vinson claim landslide victories in re-elections
Team FE is back at the helm of the National Union of Students for another year after a landslide victory for Toni Pearce and Joe Vinson (pictured) at the union's annual conference in Liverpool.
Both former Cornwall College Students' Union presidents were re-elected with large majorities, but for Ms Pearce, conference this year was a very different affair than in 2013.
"It was quite bizarre being national president at national conference," she told FE Week, "especially because I remember when I first came to conference and hearing the president speak, and I never thought I would be up there doing that.
"When I ran last year that was what I was concentrating on, but there was a lot more about making sure conference ran smoothly this time.
"I suppose once you have been doing it for a year the prospect of doing the job itself is less terrifying, but the election itself is still terrifying, and that's why I think everyone else who stood in that election deserves congratulations. I am delighted that people have put their faith in me again."
Mr Vinson said: "I'm honoured that I'll be continuing as vice president [further education] for another year. With a general election on the horizon, there is a lot to do to ensure further education isn't forgotten by all political parties, and I hope we can secure some real wins for students."
NUS president election results:
Toni Pearce – 454 votes
Aaron Kiely – 150
Daniel Cooper – 90
Jack Duffin – 18
Re-open nominations – 16
NUS vice-president (FE) election results:
Joe Vinson – 149
Jesse Dodkins – 19
Re-open nominations – 24