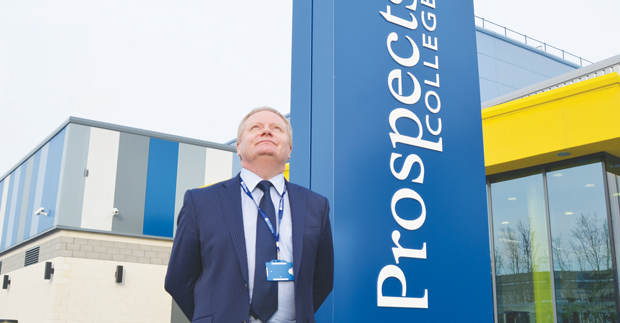 An Essex-based independent learning provider is one step closer to opening the first new FE college in 20 years after receiving the backing of the government.
Prospects Learning Foundation has revealed it has been given permission by the Department for Business, Innovation and Skills to incorporate as an FE college.
The independent learning provider (ILP), which has a current Skills Funding Agency allocation of £2.6m and already brands itself as Prospects College, launched a consultation on its plans to get FE college status in January.
Chief executive Neil Bates (pictured) has previously said he hopes the move will unlock government money and allow Prospects set up new bases — potentially competing with existing colleges.
Speaking to FE Week this week, Mr Bates said: "We are delighted that the Minister has approved our application. The consultation resulted in overwhelming support from employers and employer organisations, local authorities, Members of Parliament and students.
"The Minister will open the new college in September. This will include the opening of a new railway engineering academy where the majority of funding for this new facility is coming from major employers in the rail sector.
"We also had an OfSTED in December which judged the college to be good in all areas with outstanding features and outstanding visionary leadership.
"Our ambition is to be outstanding within three years and to have 1,000 advanced and higher technician apprentices at the college supporting key sectors of the economy."
It could be the first new FE college in more than 20 years, and comes after the government separately unveiled proposals for a new FE college to train engineers for HS2.
In an interview with FE Week in January, Mr Bates said he was "very keen" to talk to the government about Prospects, which already trains engineers for the rail industry, being involved in the HS2 college plans, but the government has yet to unveil its preferred location.