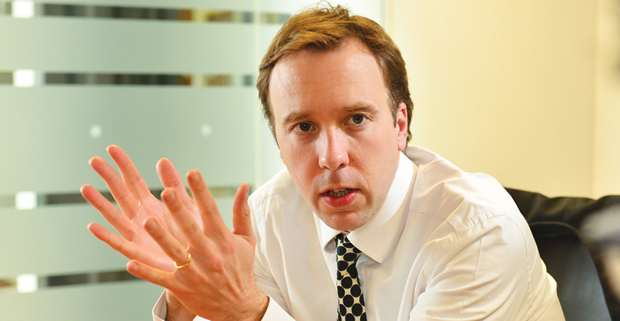 Skills Minister Matthew Hancock (pictured above) has hit back at criticism of government cuts, claiming it was "misleading" to say funding for adult skills faced a 19 per cent fall in the next two years.
In an exclusive interview with FE Week, he defended his record with the sector.
It comes after the annual Skills Funding Statement (SFS) revealed the Adult Skills Budget would fall from its current rate of £2.467bn to £2.004bn by 2016 — a cut of more than £463m, or 19 per cent.
Mr Hancock blamed "difficult financial constraints" for the cuts he has presided over, and said the adult skills budget cut would be mitigated by an increase in the amount of funding for advanced learning loans from £129m to £498m.
He said: "I am standing up for colleges extremely robustly. The idea that funding is being cut by as much as 19 per cent is inaccurate — it is a switch in funding from one type to another, and for good reason.
"For instance, keeping hold of the loans budget, even when we took apprenticeships out of loans, I think was really important for the sector.
"So of course we have to live within difficult financial constraints, and we all know why that is, and it very clearly dates from before 2010, and anybody in this job would be having to live within those constraints.
"The question is, do you do what is necessary to support the colleges to get through that? And I think that we are."
It follows the release of a report, 16-19 Education Stripped to the Bare Bones, from the Association of School and College Leaders (ASCL), Association of Colleges (AoC), Sixth Form Colleges Association (SFCA), Independent Academies Association (IAA), Freedom and Autonomy for
Schools (FASNA) and Principals' Professional Council (PPC).
It says that funding for post-16 education was now just over a half (58 per cent) of what it was when today's 17 year-olds were born, and called on Education Secretary Michael Gove to take action.
But Mr Hancock defended Mr Gove. He said: "The policy is that funding is ring-fenced from five to 16. So, whether you are in a school sixth form, a sixth form college or an FE college, you are treated exactly the same, and the new funding formula is the same per pupil for every pupil except for more support for those from disadvantaged backgrounds, more support for those with learning difficulties and more support for more expensive courses like vocational courses.
"So if you actually look at the policy you will find a progressive policy of support for people from less well-off homes, and those who need extra support because, through no fault of their own, because of a disability or learning difficulty, and people on vocational courses. So if you want to call that ideological, it's progressive and it's supportive of those most in need."