The number of students starting degree courses at further education colleges in England has risen by almost 60 per cent in the past three years, a report has revealed.
According to data published by the Higher Education Funding Council for England (HEFCE), the number of people starting undergraduate study at FE colleges (FECs) in 2013/14 was 10,000 higher than in 2010/11, a 57 per cent rise.
In the same period, the number starting at higher education institutions (HEIs) fell by 16,000.
It also shows that the larger decreases in starts at higher education institutions were at those with medium of low average tariff scores.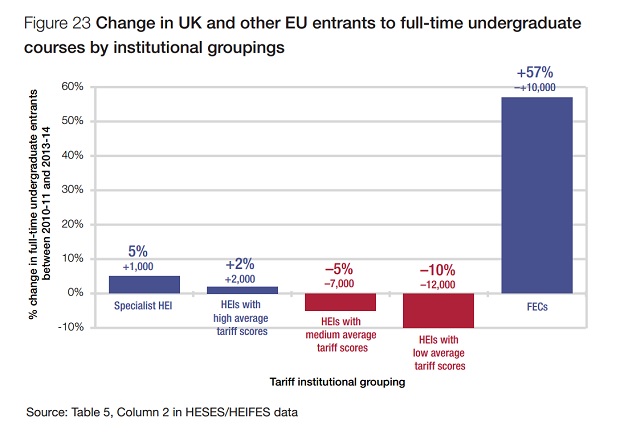 The report says: "Figure 23 shows that overall there has been a shift between 2010 and 2013 of increasing numbers of entrants going into institutions asking higher grades for entry.
"There has also been growth in numbers of entrants registered at further education colleges, reflecting broader shifts away from provision franchised from HEIs towards more colleges offering higher education directly."