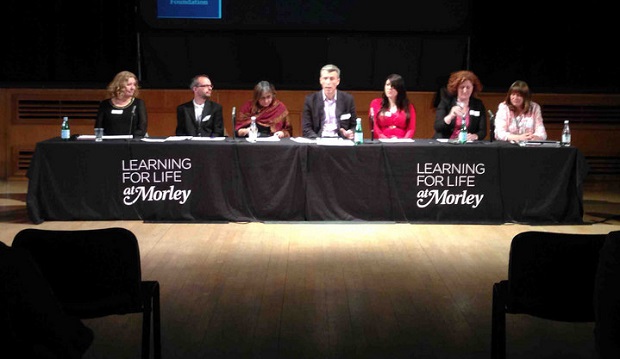 Former Education and Training Foundation (ETF) chair and board member David Hughes has called for more to be done to promote equality and diversity in the new organisation.
Speaking as the chair of a panel at the ETF-sponsored equalities consultation live debate at Morley College on Tuesday, Mr Hughes, also chief executive of the National Institute for Adult Continuing Education (NIACE) said some groups bidding for work from the Foundation might need more leeway to tick diversity boxes.
It comes after the ETF and NIACE's equalities pop-up tour – a consultation and awareness-raising exercise focused around a yellow campervan – finished today at the National Union of Students annual conference in Liverpool.
Speaking on Tuesday night, Mr Hughes,  said he wanted to see more action from the ETF board.
He said: "One thing the foundation should do is get its commissioning right. It has got to allow for the fact that some organisations need some extra space to be able to win contracts, in order to get the diversity in delivery right and we need to make sure there is diversity in delivery.
"Progress for me will be when the board of the foundation talks about equality and diversity, not because it is the 13th agenda item on a 13-item agenda, but when somebody on the board says we really do need to start addressing this issue, and we have a proper conversation about it."
Kathryn James, ETF team Leader for leadership governance and management, who was also on the panel, said she welcomed Mr Hughes's comments.
She said: "We welcome board members like David Hughes being vocal on the need to push equalities and diversity up the agenda. It's already embedded in our strategic plan and the championing of this by our board members ensures we don't lose sight, become complacent or tokenistic.
"The equalities pop up tour finished today at the NUS conference in Liverpool, and the whole thing has been really enlightening. Now we have the important job to do to make sure it genuinely informs what we do next whether this be the way we procure work, structure agendas, or recruit.
"We are taking equality and diversity seriously through our current expert panels and are extending this approach to our own staff, and collection of data so that we can see how effectively we are being inclusive in the delivery, take up and impact of the support and development we provide to the sector."