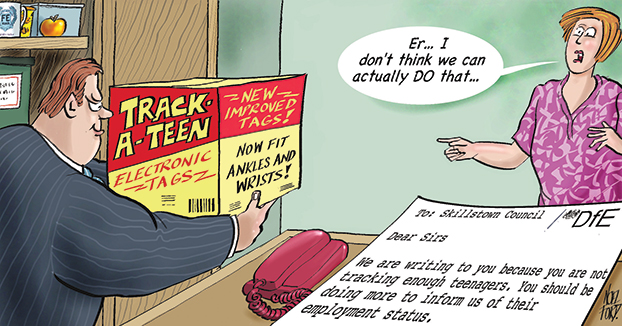 Nine more councils are to get a slap on the wrist over their tracking of 16 and 17-year-olds, just six months after a dozen other local authorities were deemed to be failing.
The Department for Education has revealed that Skills Minister Matthew Hancock is to write to the nine authorities about their recording of teenagers' employment status.
A DfE spokesperson declined to name the councils because he said the letters had not been sent out yet.
He also said that they had not been decided upon because they had the worst figures, but instead were authorities "we think could do better".
A dozen other councils received similar letters last October, in which Mr Hancock expressed his dissatisfaction with the proportion of 16 to 18-year-olds whose activity was "not known".
In the latest figures, the 12 authorities with the highest rates of "not known", excluding the ones contacted last year, were Oxfordshire, Wiltshire (both 10.8 per cent), Barking and Dagenham (11.2 per cent), Lambeth (12.3 per cent), Lewisham (12.7 per cent), Rutland (18.9 per cent), Croydon (21.6 per cent), Worcestershire (26.5 per cent) and City of London (46.6 per cent).
It comes after the proportion of 16 and 17-year-old Neets (Not in education, employment or training), rose by half a percentage point at the end of last year to 4.5 per cent (38,000).
Nevertheless, Mr Hancock remained optimistic about the announcement, and concentrated on a claim that 35,000 more 16 to 18-year-olds were in education or training at the end of last year than at the end of 2012 – taking the total to 1,168,410.
He said: "Tens of thousands more young people in education or training is welcome news. We have introduced new traineeships, have reformed apprenticeships and have raised the participation age to help more young people into the world of work.
"This shows good progress. We have a clear programme of reforms to improve the quality of young people's education to ensure, through traineeships and apprenticeships, that all have the chance to reach their potential."
Last year, Mr Hancock wrote to local authorities in Birmingham, Poole, Derby, Gloucestershire, Derbyshire, Herefordshire, Lincolnshire, Shropshire, South Gloucestershire, Stoke and the London boroughs of Tower Hamlets and Waltham Forest to raise concerns about monitoring of participation.
At the time, councils' responses included blaming issues with computer systems, or social and geographical challenges specific to their area, while a few acknowledged the problem and said they were working on it.
Several councils said there had been problems in transferring the responsibility for collecting the data from the Connexions service, which was closed by the government in 2012.
Speaking at the time, Derbyshire county councillor Damien Greenhalgh, deputy cabinet member for children and young people, said: "There were some initial teething problems with the upgrades to the system which meant we were not able to track what was happening with complete accuracy for a short period of time. However we are confident now that the system failures have been rectified."A few, including Stoke-on-Trent, questioned the statistics, saying they did not match their own data.
Speaking to FE Week last October, Stoke's assistant director of learning services Dave Perrett said: "Unfortunately, there are errors in the letter which attribute the wrong figures for Stoke-on-Trent to 16 to 18-year-olds. We are performing well when it comes to properly tracking this age group, with an encouraging figure of only 3.2 per cent unaccounted for."