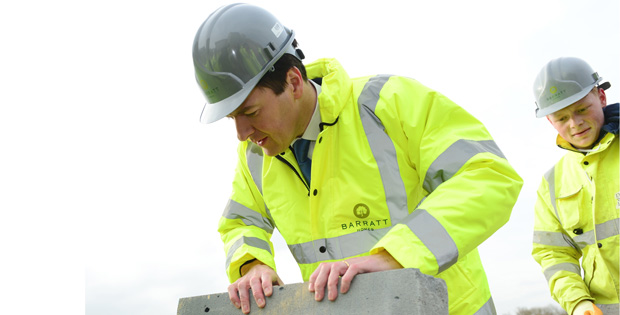 Chancellor George Osborne was given bricklaying tips by an apprentice.
Mr Osborne visited a site in Nuneaton, Warwickshire, where construction firm Barratt homes is building 800 new homes.
He was shown how to build a wall by level one bricklaying apprentice Tom Fyfe, aged 16, who works for Barratt and does his training with North Warwickshire and Hinckley College.
Tom said: "I'm still learning how to be a bricklayer, but I was able to pass on some bricklaying skills to Mr Osborne.
"This is something I've always wanted to do, and I'm really enjoying the course."
The chancellor's visit followed his announcement, in last week's budget, that a scheme providing employers with grants of up to £1,500 for each apprentice they train had been extended to 2016.
The apprenticeship grants for employers (AGE) scheme, which will be funded with £85m in both 2014/15 and 2015/16, had originally been due to end in December.
Cap: George Osborne lifting a breeze block and apprentice Tom Fyfe