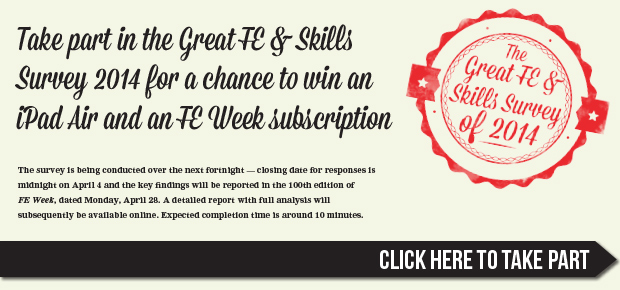 The Great FE & Skills Survey of 2014 has been launched.
The state-of-the-nation survey, which is a joint project between the Policy Consortium and FE Week, aims to provide a detailed picture of shifting attitudes and responses to changes in government policy and practice.
It is planned to become an annual event and the results of the initial survey will feature in edition 100 of FE Week.
Chris Henwood, FE Week editor, said: "One of the prime motives in setting up the survey was to determine the views, priorities and moods of those in the sector about what is going on, what really matters and, indeed, what keeps you up at night.
"There are big questions about how the dominant issues of the day are perceived by people across the sector as a whole — support staff, lecturers, college directors and beyond, including those who work in unions, professional bodies and agencies.
"The survey is wide-ranging. It embraces governance, money, resources, learners, curriculum, CPD and much more."
Mick Fletcher, a Policy Consortium member and FE policy analyst and non-executive director of RCU Ltd, said: "A frequent mistake of those who make policy or seek to lead change is to assume that everyone sees the world in the way that they do; that there is a shared view of what matters and how things work.
"In practice, there is rarely a consensus and often things which keep those at the centre awake at night barely register for many practitioners; the reverse is also true.
"If we are to improve policy and practice we need to make a more determined effort to identify how things look to those who work in the FE system and find out what matters most to them."
Respondents to the survey can choose to remain anonymous. Those who opt to provide their contact details — so that the Policy Consortium can email a copy of the analysis of the survey — will have them treated in strict confidence. No-one will be subsequently contacted unless they've given their express permission.
Competition: all respondents will be entered into a prize draw
First Prize: iPad Air and an FE Week Gold Subscription
Second prize: an FE Week Gold Subscription
Third prize: an FE Week Subscription
The survey will be conducted over the next fortnight — closing date for responses is midnight on April 4 and the key findings will be reported in the 100th edition of FE Week, dated Monday, April 28. Competition winners will be notified by April 10.