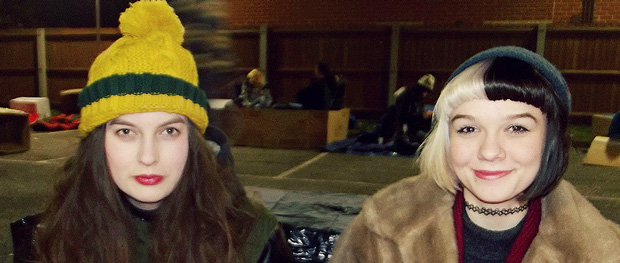 Two Seevic College students were sponsored to sleep rough overnight in a cardboard box.
Holly Mead and Daisy Baker, both aged 18, joined dozens of other people who took part in a sponsored sleepover in Southend YMCA's car park to raise awareness of homelessness in the town.
The level three media production students shared a cardboard box for shelter and crawled into sleeping bags to keep warm in near-freezing temperatures.
They were inspired to help after making a documentary about homelessness for their course at the Benfleet-based college.
The teenagers raised £390 in sponsorship, including £75 donated by the Seevic College Student Association, for Southend YMCA.
Holly said: "Sleeping rough for the evening was scary and mentally draining but luckily we had each other to get us through.
"The experience helped us to appreciate everything that we have."
Caption: From left: Seevic College students Daisy Baker and Holly Mead in the Southend YMCA car park.