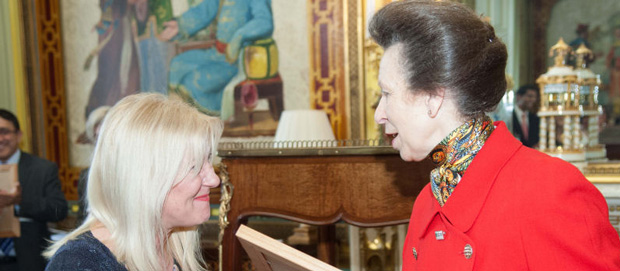 From archaeology and belly dancing to a degree in contemporary history and lessons on the First World War, the adult education path of mum-of-four Amanda Scales is nothing if not varied. And it has culminated in her appointment as ambassador for adult learning at the National Institute of Adult Continuing Education, writes Paul Offord.
Shaking hands with Princess Anne, Amanda Scales could have been forgiven for taking a moment to reflect on her journey from belly dancing classes nine years ago to adult learning ambassador for the National Institute of Adult Continuing Education (Niace).
She was given the role in recognition of her commitment to adult learning, including the completion of a degree and training to be a teacher, all the while single-handedly raising a family-of-four.
And 49-year-old Amanda's royal exchange happened during her first high profile ambassadorial appearance at a special event promoting adult education at Buckingham Palace.
She said: "Who would have thought my journey through adult education would lead to me visiting the palace and meeting the princess?
"She was keen to hear from people like myself about the barriers faced by people who want to go back into education, so she can use her influence to help.
"The more I have learned, the more I have realised how much a lack of education can be a disadvantage. I now feel like a warrior fighting for fairer access to education for everyone who desires it."
Amanda's initial education journey ended when she dropped out of an archaeology diploma at the University of Sussex in 2005.
She said: "I couldn't afford childcare for my two youngest kids while I attended lessons and felt there was a lack of understanding of the pressures I was under.
"I was devastated when I had to give it up."
But she enrolled on a belly dancing course a few months later at Whitehawk Inn community learning centre, in Brighton.
She added: "I went on the course to allow myself time to be Amanda and not just a mum for a couple of hours a week."
An adviser suggested she enrolled on its year-long new career options for women course. She completed it in June 2007.
Amanda said: "They raised my aspirations and suggested I should do a degree. I really wasn't sure, as no one from my family had gone to university before."
The journey continued with a degree in contemporary history before Amanda focussed on becoming a teacher, spending a year studying for a maths GCSE at Portslade Community College then 12 months working as a teaching assistant at Varndean School, in Brighton, where she sat an English GCSE with pupils.
She then returned to the University of Sussex to do a year-long teacher training course, which she completed last year.
She is now working as a freelance teacher for East Sussex Records Office and also developing a history course on the First World War for people who have learning difficulties or have been out of education for many years for local libraries.
She said: "Learning is hard work and there were times I thought I might quit, but I've achieved so much, and I'm very proud."
A spokesperson for Niace said: "Amanda is an exceptional success story. Our ambassadors have first-hand experience and are the best advocates for the value of learning as an adult.
"We want to empower Amanda to reach as many people as possible with her stories."
Caption: Amanda Scales meeting Princess Anne