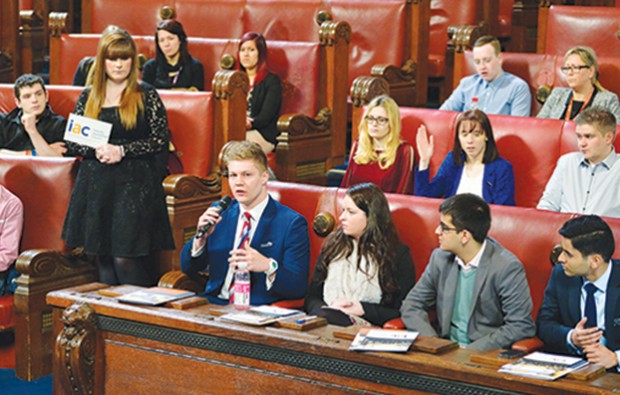 Apprentices from across the country aired their views on the programme at a debate in Central London.
Reporter Rebecca Cooney went along to watch those at the centre of National Apprenticeship Week have their say.
The first ever apprentice debate was organised by the Industry Apprenticeship Council (IAC) alongside the Voice of Apprenticeships conference held by Apprenticeships for England on Tuesday (March 4).
It was held in the former debating chamber of the Greater London Assembly, in County Hall.
The debate was led by founding IAC member and third year Vauxhall apprentice Lizzie Moffat, who thanked Skills Minister Matthew Hancock for attending.
She said: "Events like this are so important for you to make your voice heard.
"We have achieved so much, but we can achieve so much more with the help of government and industry."
Many apprentice delegates said there was an issue with the way apprenticeships were perceived.
One delegate said: " When I left school, the idea I had of apprenticeships was this old fashioned idea about being financially tied to an employer for four years in a craft or industry, I didn't know it was more than that."
Another apprentice added that there were problems with how modern apprenticeships were seen by parents and teachers.
"At the moment I think apprenticeships are the 'last resort' in many people's eyes, they're a second chance not a first choice," he said.
Another delegate agreed, saying: "Schools see university as the best thing — they think it's looks best for them if you go to uni, so that's the only option they push."
One of the major themes of the event was careers guidance as many delegates complained they had not been made aware of apprenticeships at school.
"I was at sixth form," one apprentice told the room. "And every Wednesday afternoon was dedicated to supporting you to fill out your UCAS form to go to university — if you didn't turn up, you got detention.
"When I said I didn't want to go to uni, they brought in a careers adviser — and even she didn't know about apprenticeships."
The experience was reflected by many who said that not only did schools prioritise universities, they did not seem to know about the other options.
One apprentice said: "I think it's really important that we should be going to our employers and telling them we want to go and tell school students about it ourselves."
Another said this had been very successful when she had returned to her old school to spread the word.
However, one apprentice with Fujitsu said: "Fujitsu has a project planned for 2014 to get apprentices talking in as many schools as possible.
"I think it's a great idea, but we have had rejections from schools when we've asked to come in, they don't want us. It's ridiculous, but it happens."
Apprenticeships should also be promoted in Job Centres, one delegate said, pointing out that school-leavers were not the only people who could benefit from the programme.
Another topic which drew heated debate was the issue of whether apprentices should be represented by the National Union of Students (NUS).
Kicking off the conversation, Ms Moffat said: "By all means we can keep up to date with them, but what we're doing is completely different to university."
One apprentice agreed.
"We're working, we're not in education, so our experience of life is totally different," she said.
Another said he did not believe apprentices would be regarded in the same way as university students and said he did not want to be part of the "little brother" arm of the NUS.
However, another delegate said: "You are shooting yourselves in the foot if you distance yourselves from students — we may be working, but we are all students and currently we are eligible for membership of the NUS.
"Pulling away from the biggest organisation, with the reputation it's got, will damage the chance of apprenticeships being known alongside universities."
Every apprentice who spoke was positive about their apprenticeship and the opportunities it offered them, and in a show of hands, the majority said they were hoping to take their learning on to higher apprenticeship level.
Ben Pike (pictured below), director at QA, which sponsored the event, said: "This is one of the most exciting things for me — it's not about apprenticeships versus a degree, because apprenticeships can be another way to a degree, if you want them to be."
He also thanked the apprentices for their contributions.
"One of the most important things for us is to hear from you," he said.
Mr Hancock said the debate had been "fascinating" and "useful" and praised the apprentices for the articulate arguments they had put forward.