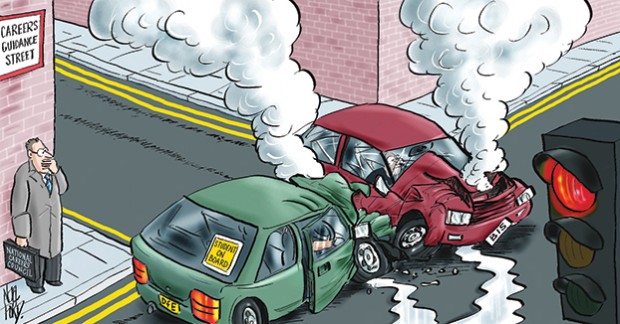 Not enough has been done to meet recommendations for the future of careers advice in England outlined by the National Careers Council (NCC), the watchdog has said.
In its report, An Aspirational Nation: Achieving a culture change in careers provision, released in June last year, the NCC made seven recommendations about improvements to the National Careers Service.
More needs to be done for young people and to help schools who whilst they have statutory duty are often unsure what do to and need some support in this period of transition.
In an interim report published six months on, the NCC has used a traffic light system to rate progress made based on its recommendations, and its chair, Deirdre Hughes, has written to colleagues across the sector about the issues highlighted.
She said: "We remain fully committed to achieving an all-age careers service that needs to do more with schools in recognition that careers provision needs to be improved."
She added: "There are however two areas that concern us. The National Careers Service would benefit from having an employer-led advisory board, small in size but big in ideas for added value, reach and impact.
"More needs to be done for young people and to help schools who whilst they have statutory duty are often unsure what do to and need some support in this period of transition.
"I trust you and your colleagues will work with the National Careers Council to ensure the necessary 'culture change in careers provision' can be achieved as soon as possible.
"We will be hosting a conference in June 2014 to gather further views on progress being made."
In the interim report, the NCC has highlighted several "red" areas, where it wants to see further improvement. It said that an impartial face-to-face careers guidance offer for schools recommended in the original report would not be available until October, and that future arrangements remained vague.
The report also said not enough had been done to meet another recommendation — that impartial careers guidance formed a part of new traineeships and the 16 to 19 study programme, and also criticised the government for not seeing training and practice-sharing among teachers and key partners as part of the careers service's role.
But the report did highlight some positive steps taken by the government, and noted that the careers service was working more closely with the Career Development Institute to provide an online list of qualified career experts.
It also recognised that revised guidance for schools would "outline the role of intermediaries in bringing employers and educators closer together, and provide examples of initiatives like Inspiring the Future that are helping to inspire young people about the world of work".
A spokesperson for the Department for Business, Innovation and Skills would not comment on the individual criticisms, but said: "We value the effort the NCC is making to support the inspiration agenda and the NCS."
The NCC report came just days before Business Secretary Vince Cable, in a speech to business leaders, claimed government efforts to boost careers guidance were being thwarted by teachers' lack of knowledge about vocational education.
"There has been an argument in government about how to get the right careers advice in schools and successive governments have frankly messed this up," he said.
"But the underlying problem is, of course, that most teachers, particularly in the secondary sector, are graduates.
"They know how universities work, they know what you have to do to get an A-level, they know about UCAS forms — but they know absolutely nothing about the world of work.
"They don't know how to direct people to apprenticeships or traineeships, which we're now doing as a first stage for people."