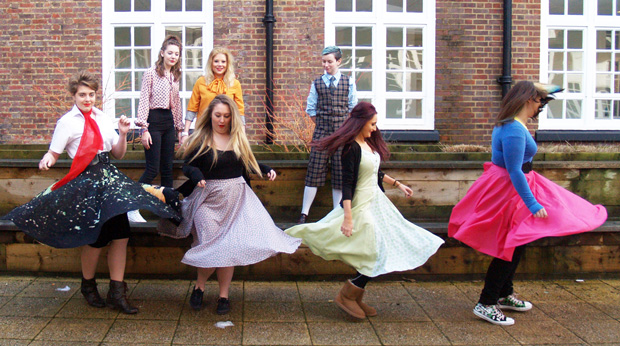 Design students at Uxbridge College proved they are a fine vintage by launching their own classic clothing and styling company.
The group of eight BTec level three production arts design students secured £5,000 funding from the National Association of College and University Entrepreneurs and £2,000 through the publicly-funded social entrepreneurship group UnLtd to launch the business they are calling Frock & Roll.
They will provide vintage clothing for sale or rent dating back the early twentieth century — including plus-fours from the 1920s, rock'n'roll dresses from the 1950s, and shoulder-padded jackets from the 1980s.
They will also offer hair and make-up styling, as well as clothing, for vintage-themed events.
One of the young entrepeneurs Charlotte Reynolds, aged 19, said: "Getting into this industry is really hard so freelancing and building a company when we are young will give us a fantastic grounding."
The students decided to set up the company to create work experience for themselves.
Frock & Roll has already styled a Murder Mystery evening, and
is part of a college-wide team working with the Mayor of Hillingdon on a 1960s-themed charity fashion show.
Cap: Shaun Jackson (back row, far right) with other learners behind the new company, (back row, from left) Katrina Lock, 16, and Georgina Scott, 19, and (front row, from left) Rheanna Winter, 19, Abigail Lewin, 16, Charlotte Reynolds, 19 and Lauren Bowrey, 17, Charlotte Reynolds, 19, and Katrina Locke, 17