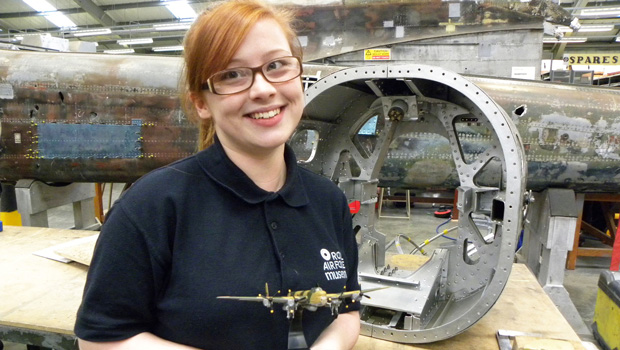 An engineering apprentice from City of Wolverhampton College has been awarded for her conservation work on a German Second World War bomber.
Bethany Colburn, aged 19, is serving her apprenticeship with the Royal Air Force Museum, in Cosford, and City of Wolverhampton College.
She was named Wolverhampton apprentice of the year by the local Rotary Club, for her work restoring parts of a German Dornier 17 aircraft that was shot down 72 years ago during the Battle of Britain and was retrieved from the English Channel in June last year.
Bethany said: "I was delighted to have been chosen as apprentice of the year. It's great to gain recognition for the conservation work we do."
The museum launched its apprenticeship scheme in 2005, to counter a shortage of people with the special skills needed to look after its historic aircraft collection.
Cap: Bethany Colburn holding her apprenticeship of the year trophy.