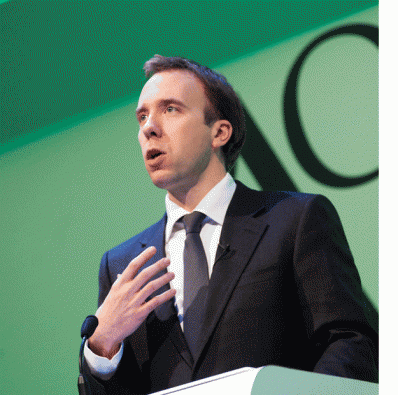 Reforms, the minimum wage and 24+ loans are just three issues covered in an exclusive  FE Week Q&A as Skills Minister Matthew Hancock speaks all things apprenticeships. 
Are you worried about being seen to tweak with the system too much?
Our priority is to expand apprenticeships where they deliver greatest benefits, including for young people, to reflect sector skills needs and opportunities, and where there is progression to advanced and higher levels.
We also want it to become the norm for young people to go into an apprenticeship or go to university or do both in the case of higher apprenticeships.
We are therefore making a number of reforms to the programme to ensure that apprenticeships are even more rigorous and responsive to the needs of employers. These are set out in full in The Future of Apprenticeships in England implementation plan.
Do you think apprentices are put off by £2.68 minimum wage?
The apprentice minimum wage is a minimum — not the rate for the job. Research shows that in reality employers pay more — the average pay for apprentices is £200 per week.
The apprentice minimum wage recognises that employers invest significantly in apprenticeships and that apprentices are initially less productive than other, skilled employees.
Employers may be put off recruiting apprentices due to their lack of experience in the workplace and the additional training costs involved. A lower pay rate addresses this.
Can the dip in uptake of 24+ apprenticeships be rectified now that advance learning loans don't apply?
The introduction of 24+ advanced learning loans has been very successful. To the end of December, there had been over 57,000 applications submitted.
However, application numbers indicate that employers and learners are not engaging with loans in apprenticeships so the government has taken steps to remove apprenticeships from loans and re-introducing grant funding to the provider.
Regulations that will remove apprenticeships from the 24+ Advanced Learning Loans scheme were laid in Parliament on February 13 and are set to come in to force on March 7.
How much of a boost are you expecting to apprenticeship numbers from the HMRC funding reform if it goes ahead?
The apprenticeships programme is employer demand-led, and as such government does not set targets for apprenticeships but provides funding and forecasts the overall number of places that may be afforded. We rely on employers and providers to work together to offer sufficient opportunities to meet local demand, taking advantage of the greater freedoms and flexibilities that we have created in the further education system.
What do you consider your greatest success with regards to apprenticeships?
Apprenticeships are real jobs with training. There were 868,700 people undertaking an apprenticeship in the 2012/13 academic year — the highest recorded in modern history.
More than 60 organisations are involved in the first phase of trailblazer projects. They took on more than 13,000 apprenticeship starts in 2011/12.
We have also taken strong steps to raise standards and crack down on poor quality. The apprenticeship programme is underpinned by statutory standards to make sure that all apprenticeships are real jobs and lead to recognised qualifications.
New quality measures such as minimum durations and enhanced English and maths requirements have been introduced and enforced. We have removed 50,000 short duration apprenticeships and 20,000 programme-led apprenticeships, where apprentices were not employed in a real job.
How is your own apprentice getting on and are you still in touch with your previous apprentice?
I now have two parliamentary apprentices. They are both getting on very well. It is hard to keep up with them as they are so keen and learning fast. I am also still in touch with my apprentice from last year.